'You Seem All My Pleasure': The Lennox Jewel
A Symbol of Love and Political Ambition
Chapter 4 : Political Symbolism
In these symbols we see Lennox's ambition on the way to being fulfilled, justified and sanctified by faith. For at the time the Jewel was probably made, he was in Scotland, having been given permission by Queen Elizabeth to go north to sort out his affairs there. Two decades earlier he had turned traitor and offered his sword to Henry VIII, who was then at war with the Scots. For that, he was rewarded with the hand of Margaret Douglas, but in Scotland he had been attainted by Parliament and had his lands confiscated. Now Queen Mary had restored them, and he was back in favour, and the path was being smoothed for Darnley to join him in Scotland and woo the Queen. But still Elizabeth I kept refusing permission for the young man to go – until suddenly she had a mysterious change of heart...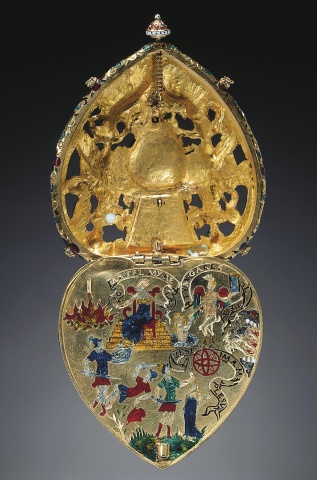 The back of the Jewel opens to reveal martyrs burning at the stake, with roses in the flames, probably representing how much Margaret had suffered for her religion. In the reign of Mary I, whom Elizabeth had succeeded in 1558, Margaret had emerged as a staunch Catholic. Queen Mary had wanted her to succeed her, instead of the Protestant bastard half-sister, Elizabeth, whom she did not trust, but Parliament would not agree. Since Elizabeth's accession, it had been made clear to Margaret that there was no role for her at court, and she had retired to her houses of Temple Newsam and Settrington in Yorkshire, which had become focuses for Catholic opposition to the new Protestant Anglican settlement. But government informers and spies had infiltrated her household, and that would lead to suspicions of treason and witchcraft – and the long months under house arrest at Sheen.
Near the martyrs a crowned queen is enthroned with the motto 'Cause tell my release'. She may represent Margaret having been released from prison and the machinations of her enemies, and triumphing in the end – or the prospect of Queen Mary being freed from the tutelage of the Protestant lords who had pushed through the Reformation in Scotland through her marriage to the Catholic Darnley.
Standing on a celestial sphere representing the heavens (on which appear the words 'You seem all my pleasure') is the figure of Time, his upper body shown with a forelock, wings and an hourglass, his feet cloven like those of the Devil. In the sixteenth century Time was regarded as a malevolent figure: since ancient times he had been associated with the god Saturn, who in turn had become identified with Satan, hence the cloven hoofs. Here the phrase 'take time by the forelock' seems apposite, for the Lennoxes now needed to act quickly and decisively, being aware that time flew on wings, and that life was finite, according to Time's hourglass.
But Time was not all bad. To one side he pulls the naked figure of Truth out of a well; the concept of 'the naked truth' was prevalent in Renaissance culture, and a well represented a womb; thus the fruit of Margaret's womb was the true Catholic heir who would prevail in time. On the other side of Time two black jaws representing the gates of Hell vomit flames and demons. Above is the legend 'Time causes all to learn'. It may be an observation on those who persisted in heresy and did not acknowledge their rightful ruler.
In the lower section of the Jewel is a soldier, perhaps Lennox, about to kill his opponent, who may represent James Hamilton, Duke of Chatelherault, with whom he had a long-standing feud, on account of the Duke's father having killed Lennox's father. The opponent points to a red shield bearing a face, possibly Darnley's, surmounted by a crown, perhaps an allusion to the rivalry between the Hamiltons and the Lennox Stuarts for the Scottish succession. He points also to a crowned warrior – who may again be Darnley - with a drawn sword holding a lady by the hair. Possibly she symbolises Mary, who Darnley will capture and defend, but – which is more likely – she may be Queen Elizabeth deposed, loose hair being symbolic of virginity and a virgin queen.
This reading of the iconography of the Lennox Jewel strongly suggests that it was made after Lennox's restitution in 1564 and before Darnley's marriage in the summer of 1565. It is a moving testimony to Lennox's love for his absent wife and their hopes for their son, and to Margaret's invincible faith. Alas, within two years those hopes would be irrevocably dashed to the ground by tragedy. And yet, that disastrous, ill-advised union of Mary and Darnley would produce a son, who would live to unite the crowns of England and Scotland under one ruler, fulfilling the hopes and the vision that Margaret Douglas had cherished four decades earlier.
---
See a clip from the BBC Programme "The Darnley or Lennox Jewel", in which Fiona Bruce shows the Lennox Jewel, here