'You Seem All My Pleasure': The Lennox Jewel
A Symbol of Love and Political Ambition
Chapter 2 : The Outer Face
The Lennox Jewel is of fine workmanship, three inches in length, and is decorated with translucent enamel over a textured gold base. On the outer face is set a crown set with Burmese rubies, an Indian emerald and other precious stones, and surmounted by three fleurs de lis, the royal arms of France, which appear on an azure shield in the first quarter of Lennox's arms; the right to bear these arms had been granted to his forebear, Sir John Stewart of Darnley, by Charles VII of France.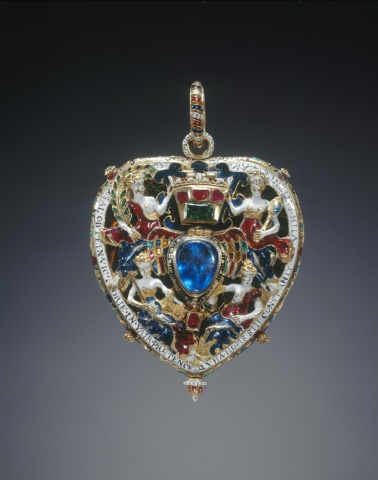 Beneath the crown is a heart made of a single great sapphire, Lennox's birthstone, which symbolised wisdom, purity and steadfastness, qualities that Margaret no doubt saw in her husband, but which were not always evident to others, for Lennox's prime concern was usually self-interest. The heart's feathered wings are enamelled in ruby, emerald and gold. The crown and the heart together were the ancient emblems of Margaret's paternal forebears, the Douglases, one of whom had attempted to carry the heart of King Robert the Bruce to the Holy Land; and the protective wings symbolise her family's soaring aspirations; they may also represent Lennox's love winging its way south to Margaret in London.
Supporting the crown and the heart are four allegorical figures: Faith, with a cross and a lamb, for Christ, the Lamb of God; Hope, with her symbol, the anchor, which also stood for constancy and fidelity, and again for Christ, the soul's anchor; Victory, with an olive branch; and Truth with a mirror. These symbols, like others in the Jewel, embody not only the love and fidelity between Margaret and Matthew and her deep Catholic faith, but their fierce dynastic ambitions and their hopes for their son, Darnley.
The Jewel bears twenty-eight emblems, some of which can only be seen properly with a magnifying glass, and six inscriptions in old Scots. On the white enamel border is an inscription:
'Who hopes still constantly with patience shall obtain victory in their pretence [claim]',
which refers to the couple's relentless pursuit of crowns for themselves and their offspring, and their confident conviction that their hopes will be realised.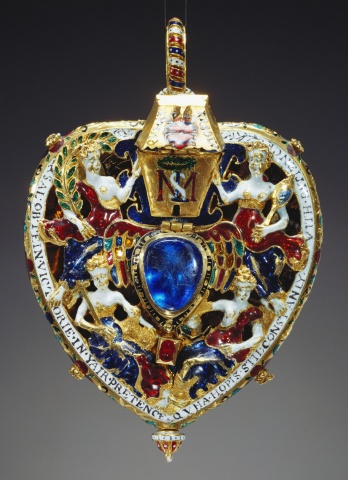 The crown on the Jewel opens up to reveal two hearts joined by a blue buckle – buckles featured in both the Lennox and Douglas arms - and a gold true love's knot pierced by two feathered arrows with gold barbs, presumably shot by Cupid. Below are the initials M.S.L. for Matthew (or perhaps Margaret) Stuart Lennox; these devices represent the couple's marriage and Lennox's deep and enduring love for his wife, and they are crowned with a chaplet of leaves, the symbol of victory, and also of Christ, whom St Paul called the 'wreath that will never die'.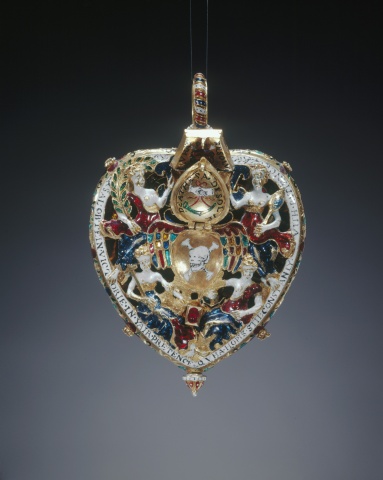 The winged heart opens to reveal two joined hands holding by a ruby filet a green hunting horn, then a symbol of aristocratic status. Underneath this device is a skull and crossbones, a reminder of mortality. This links to a motto in the crown compartment, 'What we resolve', which is completed by that in the heart compartment: 'Only death shall dissolve'. This inscription also refers to the undying love between Margaret and Matthew, and to their determination to realise their ambitions. Another inscription in the inner heart, 'Tym gares al leir' is an anagram of 'Margaret is leil', which means true and affectionate.