Chapter 5 : Arrests
Sometime in June 1538, one Gervase Tyndall, an informer reporting to Thomas Cromwell, was staying, whether by accident or design is not certain, in an infirmary maintained by Lady Salisbury. The surgeon in charge, a man named Richard Ayer, passed away the hours with his inmate gossiping about his employer, Lady Salisbury and her family.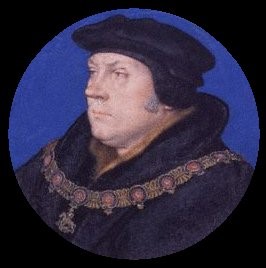 What he had to say made Tyndall's ears prick up, and he was soon reporting back to Cromwell that the Pole brothers in England were communicating with their brother, Reginald. It also came to light that Lady Salisbury and her Council had forbidden the reading of the Bible in English, in contravention of the new law.
Not only were the Poles writing to Reginald, but, it was alleged, one of Geoffrey's servants, Henry Holland, had been carrying messages to Pole that contained
"all the secretes off the rem off Ynglond".
Holland had also conveyed John Helyar, Lady Salisbury's personal chaplain, abroad, who was trying to escape after criticising the King's Supremacy. It seems that Geoffrey Pole had allowed, if not encouraged, the escape.
Tyndall's appearance in the neighbourhood of Warblington was raising questions, and he fell into an altercation with the local curate and constable. Threats and counter-threats were exchanged.Geoffrey Pole, alarmed by increasing gossip, went to Cromwell, taking Aymer and Holland with him to try to minimise any damage. He confessed to exchanging letters with Helyar but nothing about corresponding with Reginald.
Soon after this, Holland was arrested, and concerned as to what he might say, both Geoffrey and Montague arranged for letters to be burnt.