Wales & the Wars of the Roses
Chapter 4 : Ebb & Flow of Loyalties
The growing power of Herbert in South Wales was perceived as a threat by the Earl of Warwick, who also had extensive holdings in the area. Warwick destroyed this rival by having Herbert and his brother, Richard, executed after the Battle of Edgecote, on 26th July 1469, when Warwick's men defeated Edward IV's supporters. Mary Woodville's father and brother were also executed..
Following Edward IV's restoration to the throne in 1471, the new Earl, Black Will's son, remained closely allied to the Yorkist cause, even after being requested to relinquish the earldom of Pembroke and accept the less valuable earldom of Huntingdon instead.
Black Will's half-brothers, the Vaughans, remained faithful to Edward IV, and then to his son, Edward V. Their kinsman, the Thomas Vaughan who had been Jasper's Councillor, was appointed as Chamberlain to the young Prince Edward as soon as Edward IV was restored to the Crown in 1471, and remained with the Prince at Ludlow. Thomas Vaughan was arrested by Richard, Duke of Gloucester as he accompanied the young Edward to London, after the death of the King, and executed in June 1483 although well into his seventies. This may have been one of the motivating factors for Herbert's failure to support Richard III.
The other family which influenced events in South Wales during the Wars of the Roses, was that of Gruffydd ap Nicolas. From an obscure background, Gruffydd was part of the affinity of Humphrey, Duke of Gloucester, until Gloucester's downfall and subsequent death in 1447 when Gruffydd was imprisoned. Like many of Gloucester's erstwhile colleagues, he was then associated with the Duke of York.
Gruffydd's contribution to Welsh life – the patronising of 'eisteddfodau' (assemblies for hearing and judging poetry) and support of individual bards affected politics. Bards, in a sense, were PR agents – they wrote positive verses about their patrons and denigrated their enemies. They kept memories alive and stirred up the population. In particular the famous bard, Lewis Glyn Cothi, was a friend of Gruffydd's son, Owain, and wrote numerous verses in support of Jasper Tudor.
Thus, when Sir William Herbert, Earl of Pembroke, was killed after the Battle of Edgecote, by Warwick, the bards called on Jasper to avenge his death. It did not matter that Jasper and William supported opposing sides in the War – so far as the bards were concerned, their hero had been killed, and it was every good Welshman's job to take vengeance. The bards began to look again for the man who would deliver them from English domination.
Gruffydd had several sons, of whom Owain and Thomas were the most notorious – the word is used advisedly as father and sons were frequently the subject of complaints about their abuse of power. York had no control over Gruffydd, who garrisoned Carreg Cennen, Carmarthen and Aberystwyth castles, refusing to hand it over to York, who had the office of Constable of the castle. Gruffydd then proceeded to indulge in a private war with Edmund Tudor, now Earl of Richmond. When Richmond eventually took Carmarthen from Gruffydd, he was, in turn besieged by Herbert and his brother-in-law, Devereux.
Gruffydd and his sons were granted a pardon in 1456 by Queen Marguerite of Anjou, and following this, the family largely became Lancastrian supporters, complicated by the fact that Thomas ap Gruffydd's daughter, Margaret, married Sir William Herbert's brother, Richard. Owain and Thomas ap Gruffydd, working with Jasper Tudor, refused to surrender the Carreg Cennen Castle to the victorious Edward IV after Towton, but were eventually forced out, in 1462, after which, together with Thomas' son Rhys, they spent some time in exile in Burgundy.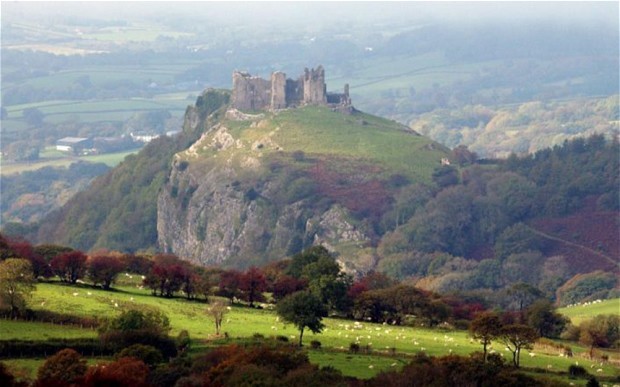 Restored to their lands by the Readeption of Henry VI, they retained them after the defeat of the Lancastrians, and came to an accommodation with Edward IV. By 1474, Rhys ap Thomas had inherited his father's lands (his older brothers having died).