Agnes, the daughter of an influential Yorkist family (her father had been Squire of the Body to Richard III), was married at a young age. She lived at Gainsborough Hall, in Lincolnshire, and bore at least six children. Her brother was Admiral of England and her husband, 1st Baron Borough, was Chamberlain to Queen Anne Boleyn.
The picture illustrated is often cited as a drawing of her daughter-in-law, Katherine Parr, although experts have disagreed. It seems very unlikely that it is of Katherine, as it is labelled "Lady Borough", and Katherine was in fact, just Mrs Burgh. Agnes may well have attended Court with her husband as he had an important role. It is therefore quite feasible that she should have been sketched along with other Court ladies.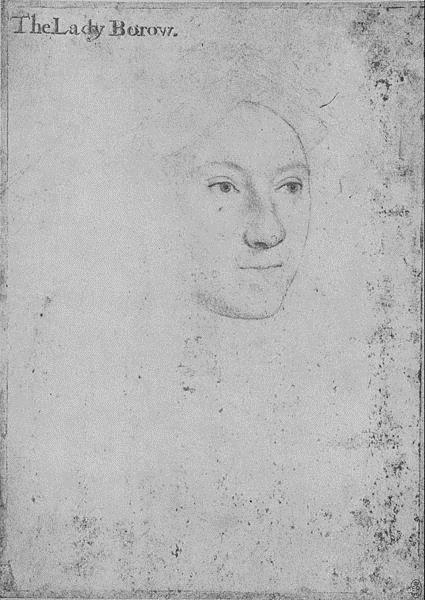 In 1536, Queen Anne having been executed, it is likely that Agnes was at home when the Lincolnshire rebels appeared at the door, demanding that her husband join them. Lord Borough put up a stout resistance, but it must have been a very frightening experience. The Tyrwhitts and the Burghs were Reformers, so it is unlikely that Agnes sympathised with the rebellion.
Agnes' husband was considered a man of difficult temper, and her father-in-law was mentally unstable – it can't have made for an easy life. When her son died, her daughter-in-law, Elizabeth Owen was accused of adultery by Lord Borough and cast off, together with her children. There is no record of Agnes' reaction to this.
No details are known of Agnes' relationship with her daughter-in-law, Katherine Parr, however Katherine later had a Lady Tyrwhitt in her household, who was probably Agnes' sister-in-law or niece, suggesting good family relations.