Anne of Denmark: Life Story
Chapter 3 : More Wedding Plans
By February 1589 the Navarre match had been dismissed, partly because of Catherine's age (she was some seven years older than James) and partly because there were fears that her inheritance was being spent by her brother. It was finally agreed that Anne and James would marry, a popular move with James' middle-ranking subjects, as Denmark was a major source of timber, although there were some concerns that Anne was too young to be a wise companion for James, and that Anne's Lutheranism might gain ground over the preferred Calvinist religion of the Kirk. James' Chancellor, Sir John Maitland of Thirlestane, remained opposed to the marriage, preferring the Navarrese princess, but James overruled him.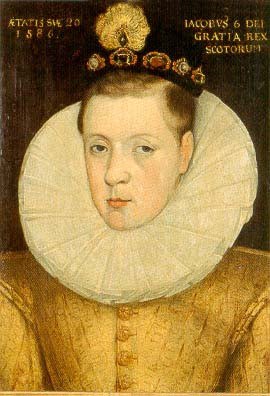 Anne's marriage was to be accompanied by a league with Denmark and the German Princes, against the Spanish and 'all enemies of [Protestant] religion'. The Danes were to furnish 30,000 men in the event of a Spanish invasion of any of Britain, but the Danish Regency Council, reluctant to embroil their young king in wars, wanted Elizabeth and the King of France to clarify their positions before a solemn league could be entered into.
Another secret English correspondent, Thomas Fowler, rather sniffily wrote to Lord Burghley, Elizabeth I's chief minister, that he did not see how the Scots could afford a queen – they could barely afford a king.
Nevertheless, James was voted £1,000 Scots as a subsidy for his marriage, and a commission was granted to George Keith, Earl Marischal, and Lord Dingwall. According to the words of the Commission, James, having been informed of:
'the age, the favour, the education and other princely qualities of the Lady Anna…answerable in every point to our contentment and liking…'
The lords were to 'treat, confer, conclude and contract' with Dowager Queen Sophie, King Christian and his four Regents and Council.
The terms of their commission were to include a request for a dowry of £200,000 Scots, for all Scots to be treated as Danish subjects, when in that realm, and for Orkneys to finally be signed over to Scotland. In return, Anne was to receive the whole rents of the Duchy of Albany, the Earldom of Carrick and to have the palaces of Linlithgow and Falkland for life. Alternatively, if the financial details were too difficult to work out in the relationship between the dowry and Anne's grant, then she would be granted a blanket third of all James' revenues for life.
At the same time, James sent a messenger to Elizabeth with a request for an increase in his pension, and also to be given the lands that he should have inherited from his grandmother, Lady Margaret Douglas, which had been retained by the English Crown.
Earl Marishal and his retinue arrived in Copenhagen on 29th June, to be greeted by the whole Danish court and nobility. The Danes were eager for the match to go forward, and Anne was very well provided for – she was to be accompanied to her new land with sixteen ships full of furniture, clothes, horses, and even a coach whose fittings were all of silver, rather than iron.
Anne herself was to be richly dressed – it was said that five hundred tailors and embroiderers had been working on her trousseau for three months. Queen Sophie had bought her many jewels, particularly pearls. The vast majority of Anne's portraits show her wearing pearls – they were hugely popular with sixteenth century royal ladies and her taste for fine jewellery never weakened.
Anne was now fourteen and a half. The details of her education are unknown, but we can infer from her later interests and occupations, and those of her brother, Christian, that she had been brought up to have a strong interest in art and culture, as well as loving fine clothes and jewels. She did not speak Latin or Scots before her marriage, although she spoke German as well as Danish and had gone to some considerable trouble to learn French so that she and James could converse without an interpreter.
This suggests that she was perfectly content with the match arranged for her – she could anticipate being Queen of Scots immediately, and Queen of England in due course. If precedence mattered to her, which it did to most people at the time, she would outrank all her sisters.
Anne and James had had some formal correspondence, and he was beginning to be more eager for the marriage, thinking himself into a frame of mind in which he could love his wife, as he was duty bound to do. He undertook repairs to Holyrood Palace in anticipation of her arrival, although he was desperately short of cash.

Anne of Denmark
Family Tree