James Melville: Royal Messenger
Melville spent much of his youth in France, before journeying to the courts of European rulers, on behalf of the various men and women he served. Once back in Scotland, he travelled around Lowland Scotland with the Scottish Court as well as making several journeys south to the court of Elizabeth I.
---
The numbers against the places correspond to those on the map here and at the end of this article.
---
Melville was born in Raith (1), in Fife. Raith today is a suburb of Kirkcaldy, a pretty sea-side town with an unusually long sea-front. Fife was one of the first areas of Scotland to follow the Reformed faith, and the legacy has lasted through the centuries. Former British Prime Minister, Gordon Brown, son of the Presbyterian Minister of Kirkcaldy sat for the Parliamentary seat from 1983 – 2015.
Melville's father, Sir John, was Captain of Dunbar Castle, but it is unlikely Melville went there during early childhood, although he knew it later. Together with his six brothers and three sisters, he probably remained at home.
In 1548, Sir John was executed for treason and his lands forfeit. It is not apparent exactly what provision was made for his children, but James and his older brother, Robert, were soon found court appointments. Marie of Guise, mother of the young Mary, Queen of Scots and later Regent sent Robert to France with the Queen in 1548, and the following year, James, too, was sent there.
He travelled in the train of the Bishop of Vallance, and their first port of call was Ireland, which they reached after considerable time at sea, tossed by storms. They spent three weeks there, then returned to Dumbarton Castle (2). Dumbarton, one of the strongest forts in Scotland, is on the mouth of the River Clyde, and the usual sailing point for France by the western route. Dumbarton today is largely an 18 th and 19th century structure, but its origins are a thousand years older, it having been the capital of the old Celtic kingdom of Strathclyde.
Following a brief visit to Stirling Castle (3) (well worth a visit to see the royal apartments) to report to Queen Marie on affairs in Ireland, the party set sail again, landing in France some three weeks later, battered again by storms.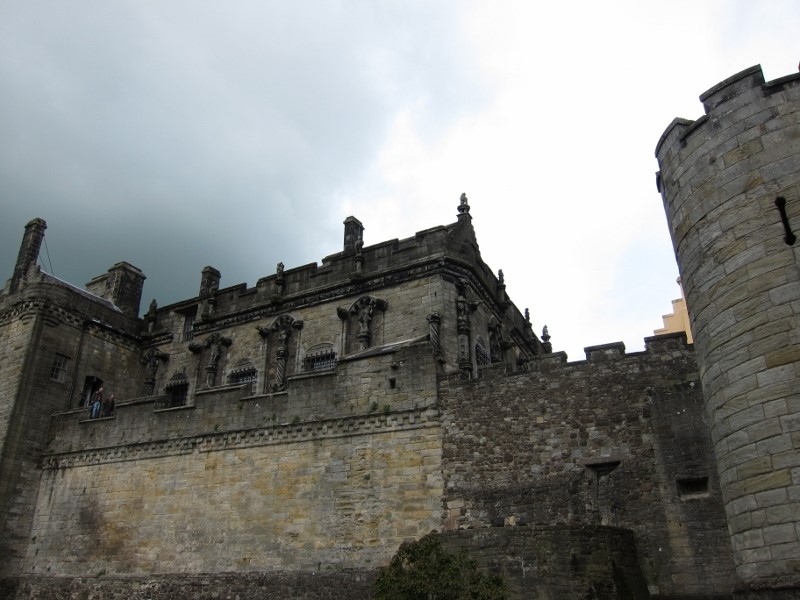 Whilst in France, Melville fought at the Battle of St Quentin, now in the department of Aisne in Picardy, not far from the Belgian border. He was present at the negotiation of the peace treaty agreed after the battle at Le Cateau-Cambresis, near Bordeaux.
In the next couple of years Melville made a number of journeys around Europe. His first trip was a return home in 1559. It appears that, whenever possible, Melville travelled by land, and so on this occasion, he travelled via England. Probably the initial awful journey to France put him off sailing. He attended Queen Marie at Falkland Palace (4) in his native Fife. Falkland today is an extremely well preserved palace, open to the public and with many traces of the occupation of Marie of Guise, and James V.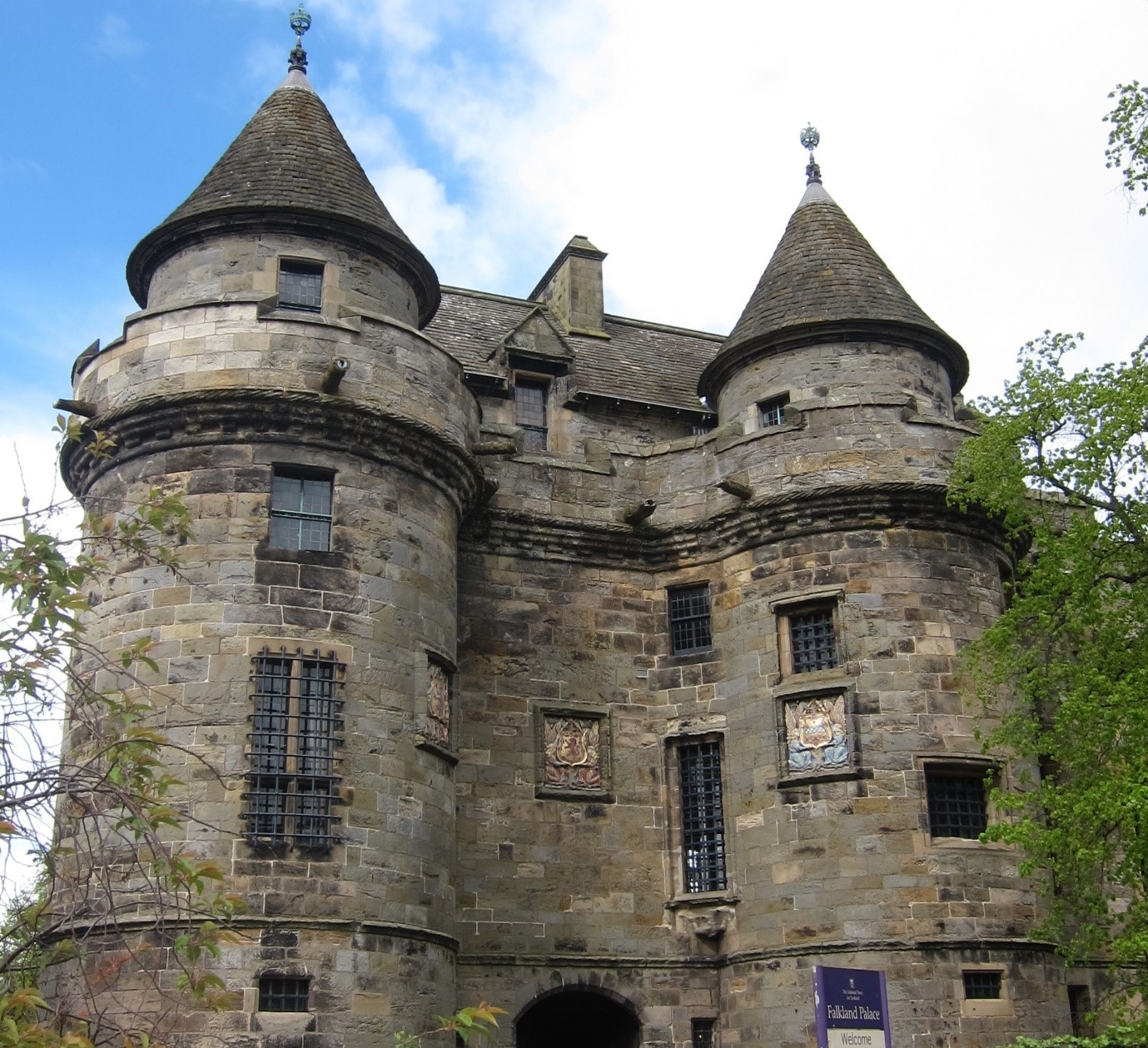 Travelling back to France, Melville would have travelled down what is now the A1 – The Great North Road from London to Edinburgh. He stopped en route in Newcastle (5), whose Norman Castle overshadowed the small town at its foot. The Castle is open to the public, and gives a good idea of what life in the Borders was like, when Scotland and England were frequently at war.
Back on the continent, Melville travelled to the court of the Frederick III, Elector Palatine, in Heidelburg, and then on various embassies for Frederick, including to the court of Maximillian, King of the Romans, and soon to be Emperor, at Innsbruck. He also visited Venice and Rome, but left no information about his opinion of those cities.
He left the service of the Elector, to join that of Mary, Queen of Scots, who had returned to Scotland in 1561. On Mary's behalf, he undertook a couple of embassies to the court of Elizabeth I, attending Elizabeth at Hampton Court (6) on the first occasion. Hampton Court is open to the public and is one of the greatest palaces in England – don't miss an opportunity to see it!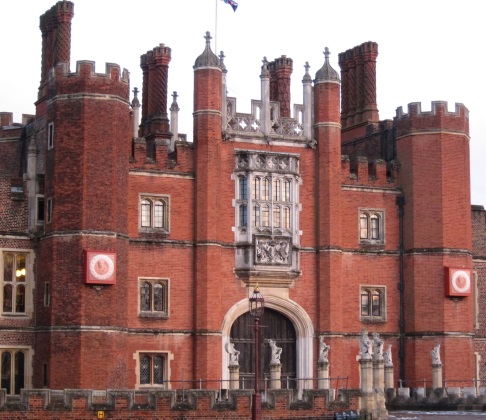 On a subsequent visit he went to Westminster Palace (9). The only fragment of the original Westminster Palace to remain is Westminster Hall, whose great hammerbeam roof dates from the reign of Richard II. The palace Melville would have known burnt down in the Great Fire of 1834. The current Houses of Parliament stand more-or-less where the Palace was. Westminster Hall may be visited as part of a booked tour – if you can't get there, you can see videos here
Mary's court moved around Scotland, and Melville attended her at St Johnstone, near Perth (7), where the castle had been in royal hands since the time of Robert the Bruce. Although there are other castles nearby, nothing remains of Perth Castle.
Holyroodhouse, the current Queen's official residence in Scotland, is delightfully situated in Edinburgh, surrounded by gardens, and with to Arthur's Seat, the crag overlooking the city. It is open to the public, but, if you cannot get there, take a look at the video link here It was at Holyroodhouse that the shocking murder of David Rizzio, Mary's secretary, took place, in front of the pregnant Queen.
Mary retreated to Dunbar in East Lothian, where Melville's father had been Captain of the Castle, but then emerged and spent a short period at Haddington (11), where she instructed Melville to write letters summoning her estranged half-brother, Moray, home.
Mary, fearful for her own safety and that of her unborn child, chose the great fortress of Edinburgh Castle (9) to give birth to Prince James in 1566. Melville waited outside her apartments to hear of her delivery, before setting off for London to inform Elizabeth I. He reached Berwick (12) the same day. Berwick-upon-Tweed, now a small, pretty town, on the north side of the Tweed is one of the most fought over locations in British history. By the sixteenth century, it had settled into English hands, and was the location where many conferences and meetings took place between diplomats of both sides. Nevertheless, the border was not secure and a new encircling wall was built by the English, which may be seen today.
Four days after setting out with his good news, Melville arrived in London, and travelled down the river to make his announcement to Elizabeth at Greenwich (13).The site of the palace at Greenwich, called Placentia, is now covered by what were once the Royal Naval College buildings and is now the University of Greenwich.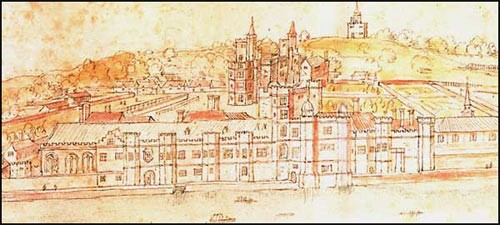 Melville's last known trip out of Scotland was in 1568. Mary had been defeated at the Battle of Langside, and had escaped (or so she thought) into England. Alas, she was now trapped. Elizabeth, wishing neither to free her, nor condemn her, set up a Commission to investigate the murder of Darnley.Melville was present at its deliberations in both York and Hampton Court.
Following this last journey, although Melville travelled extensively between the royal palaces and castles in Scotland, he refused all commissions to travel further than Berwick, and spent as much time as he could at his home of Halhill, near Collessie, in Fife. It is here that he was buried in 1617 in a church where his vault, built by him in 1609, may still be seen, following extensive restoration.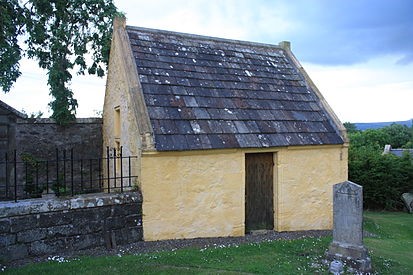 The inscription on the tomb reads (with a couple of interpolations where the text is unclear)

'Ye loadin pilgrims passing langs this way
Pans [think] on your fall your offences past
How your frail flesh first formit of the clay
In dust mon [must] be desovit at the last
Repent amen on Christ the burden cast
Of your sad sinnes who can your sauls [souls] refresh
Syne [since] rais from grave to gloir your grislie flesh
Defyle not Christs kirk with your carrion
A solemn seat for Gods service prepared
For prayer preaching and communion
Your burial should be in the kirkyard
On your uprising set your great regard
When saul and body ioynes [joins] with joy to ring
In heave for ay [ever] with Christ over head and king.'
The question of whether burial should take place in the church (Catholic practice) or the churchyard (Protestant practice) was a vexed one at the time, and Melville is confirming his Protestant views.
More extensive information on the tomb can be found here
---
The map below shows the location of the places associated with James Melville discussed in this article.