Margaret Beaufort: Country Castles & Cambridge Colleges
Lady Margaret was a great heiress, and her lands stretched across the Southern and Midland counties of England. As a married woman, she lived in Wales and the North of England, and travelled extensively around the country as she visited her different homes and the royal court.
---
The numbers against the places correspond to those on the map here and at the end of this article.
---
Lady Margaret was born in her mother's Castle of Bletsoe (1) in Bedfordshire. Bletsoe is a small hamlet with little to identify it as being the location of a castle. The only clue that there was ever a castle here, is in the name Castle Lane. Nothing remains of the building, with the possible exception of some barns that may date from the period. Opposite the castle's former location is St Andrew's Church, which dates from the 13 th century and would have been known to Margaret, who paid for some renovations in later life.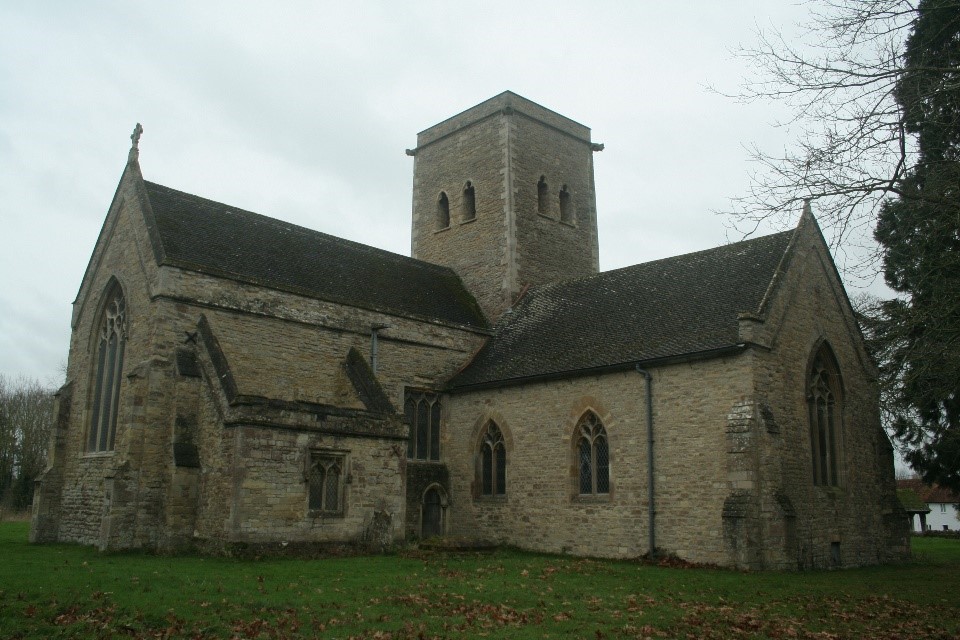 Margaret's father died about a year after her birth and was buried in Wimborne Minster (2), Dorset. Her mother, however, lived for another 40 years before joining him there. Wimborne is a fascinating church with an important library of ancient books, as well as the tombs of Margaret's parents, the Duke and Duchess of Somerset and no less a personage than King Ethelred, brother of Alfred the Great.
In 1497 Margaret was granted permission by Letters Patent from Henry VII, to found a chantry staffed by a single chaplain at Wimborne. She was given a licence to appropriate land to the value of £10 per annum to support the chaplain. Following her death, Henry VIII, on 7th August 1509 confirmed the grant and gave additional lands to provide a further £6.
The chaplain was to pray for the souls of Margaret, her parents and other ancestors and all the faithful departed. In addition to his duties as chaplain the first incumbent, Richard Hodgekynnes, was required to teach grammar as it was taught at Eton and Winchester. A Requiem Mass was to be so held each year on 29 th July, but, frustratingly, we do not know why that particular date was chosen. It was not the date of death of either of her parents, or either of Margaret's deceased husbands. Nor was it her birthday or that of her son. There are other detailed instructions for the conduct of the bequest and the requirements for the chaplain.
The Chantry was suppressed following the Dissolution, but the school was re-founded by Margaret's great-granddaughter, Elizabeth I, and is still extant as Queen Elizabeth's School, Wimborne, closely attached to the Minster.
Despite being made a ward of the Earl of Suffolk, in anticipation of her marriage to his son John, it seems that Margaret probably stayed in her mother's home rather than living with the Suffolks. She spent the majority of her time at the Dowager Duchess' property, Maxey Castle (3). Not far from Bletsoe, Maxey was then in the Soke of Peterborough but is now considered to be in Cambridgeshire. The site of this castle, which was licensed for crenellation in 1374, is a scheduled ancient monument, although there is little to be seen.
Margaret would have lived there with her half-siblings from her mother's first marriage, the St Johns, and the step-siblings she acquired on her mother's third marriage to Lionel, Lord Welles. Also in the household were the children that her mother and Lord Welles had and probably her father's illegitimate daughter, Tacine.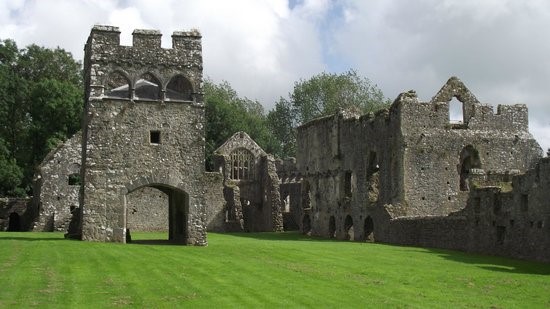 Not long after Margaret's marriage to Edmund Tudor, Earl of Richmond, which took place at the Bishop's Palace in Llandyfai (Lamphey) (4), Pembrokeshire, she and her new husband set up home in Pembroke Castle (5), in the far west of Wales. Margaret presumably believed that she would spend her life there as mistress of a great household, visiting other manors and castles within the honour of Richmond. Sadly, it was not to be. Within a year of their marriage Edmund died, after being captured and imprisoned in Carmarthen Castle, by Sir William Herbert, a Yorkist adherent.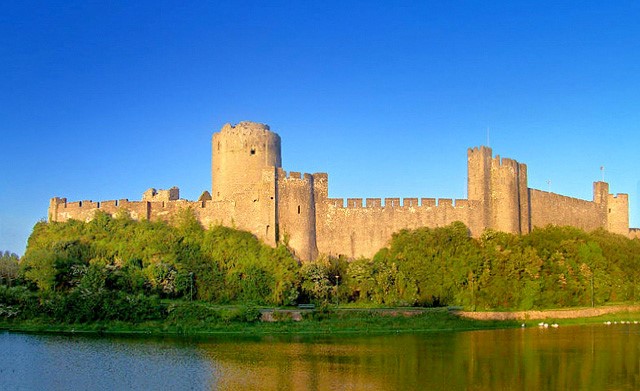 In April 1457 the widowed Margaret remarried. Her second husband, who was around 15 years older than her, was Sir Henry Stafford, son of Humphrey, 1 st Duke of Buckingham. The marriage took place at the Buckingham seat of Maxstoke Castle (6) in Warwickshire. The castle and enormous mediaeval construction still exists and is lived in by a family which has owned it since the Civil War. It is occasionally open to the public.
Margaret was a considerable heiress, even though, on her father's death the title of Duke of Somerset had been inherited by her uncle Edmund. She and Stafford set up home first at Bourne Castle (7) in Lincolnshire, and then later at Woking (8) in Surrey. There is no trace of their home at Bourne, other than a watercourse in the town which was once part of the moat. By the 1520s the castle had fallen into disrepair.
Working Palace lay off what is now the Old Woking Road in Surrey with the River Wey as its southern boundary. The first record of a manor house dates from 1272, and it was part of the inheritance of Lady Margaret's grandmother, Lady Margaret Holland, Countess of Somerset and then Duchess of Clarence. Woking appears to have been Margaret's preferred home until it was taken from her, not without some objection from her, by Henry VII in 1503. Henry VIII also liked the Palace and extended it significantly between 1515 and 1543. It was used by Elizabeth I but then granted by James I to one of his courtiers, Edward Zouche (d. 1634). Zouche used some of the materials from the Palace to build a new house. There is an archaeological dig at the remains of Woking Palace which is sometimes open to the public.
It was from Woking that Henry Stafford departed to join the Yorkists at the second Battle of Barnet which took place on 14 th April 1471. Stafford sustained wounds that probably killed him. He was buried later that year at Holy Trinity Church (9), Pleshey, Essex, on the outskirts of Chelmsford.
Holy Trinity Church was founded by Thomas of Woodstock, Duke of Gloucester, ancestor of the Stafford Dukes of Buckingham. Henry Stafford's father had been laid to rest there after his death fighting for Lancaster at the battle of Towton. Nine years after Henry's death, his mother Anne Neville, Duchess of Buckingham, was also buried there. The Buckingham tombs can still be seen.
Widowed for a second time, Margaret lost no time in selecting another husband. This time she would have been completely free to choose herself, and her selection fell on Lord Thomas Stanley. Stanley was a great magnate in the North West of England, as well as being hereditary Kings of Man. The main Stanley seats were at Knowsley (10) and Lathom (11) in Lancashire. Knowsley was replaced during the 18 th century but is still the seat of the Earls of Derby and is occasionally open to the public. There is no trace remaining at of Lathom.
Margaret divided her time mainly between these Lancashire properties and the court, where she was frequently in attendance on Queen Elizabeth Woodville and later, on Queen Anne Neville. Following the failed rebellion of Margaret's nephew-by-marriage, the 2 nd Duke of Buckingham, she was largely confined to the Stanley estates in Lancashire, more or less under house arrest. Her own estates were confiscated and re-granted to her husband.
This all changed in 1485 when Henry VII won the throne at the Battle of Bosworth. One of his first actions was to grant Margaret the Palace of Coldharbour (12) in London. Like most of the great London palaces Coldharbour has completely disappeared. It was located not far from where Cannon Street station is today.
Henry also granted her extensive estates on the Northamptonshire/Lincolnshire border at Collyweston. Collyweston is in the Welland Valley at the edge of Rutland. The Manor house was built in the early 15th century by Sir William Porter and was later sold to Ralph, Lord Cromwell. It is not clear how it came into the hands of the Crown, but it was granted to Margaret not long after Henry's victory at Bosworth. She undertook considerable works there, developing a sumptuous country house.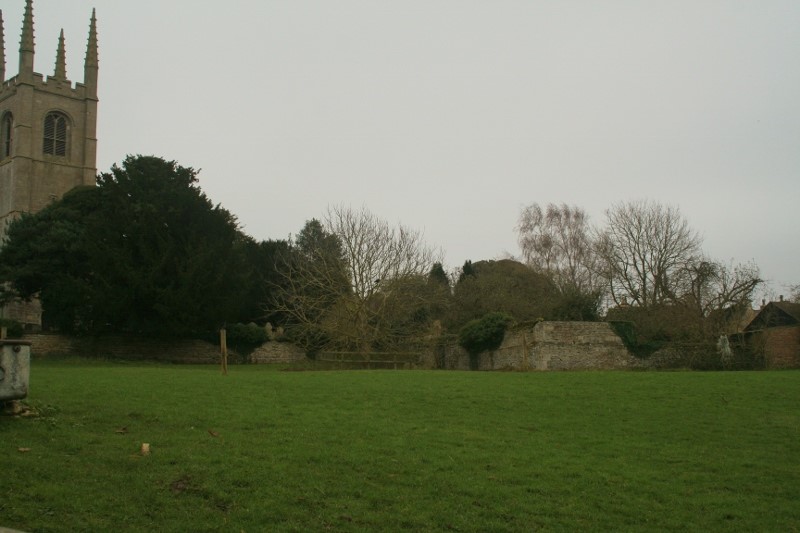 It continued in royal use, with Henry Fitzroy, Duke of Richmond, Henry VIII's illegitimate son, living there. After Henry VIII's death it was one of the properties assigned to his daughter, Elizabeth. Nothing remains of the palace, apart from a dovecote, together with some alterations she made to the Parish church. There is a sundial which is said to date from the Old Palace but it is probably 18th century in origin.
Margaret's most lasting contribution to architecture, as well as learning, was the re-founding of two somewhat impoverished Cambridge colleges. The first, originally known as 'God's House', and founded by Henry VI, was re-founded by her as Christ's College. She endowed it with significant revenues and it remains her greatest monument. In her will she also allocated money for the founding of a second college, St John's, which was to replace the impecunious St John's Hospital. Both of Margaret's Cambridge colleges are liberally festooned with her graphic badges – the Beaufort portcullis, the Yale of Kendal and the Roses of Lancaster.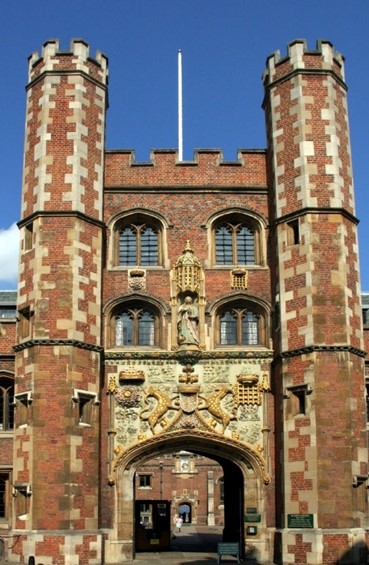 Margaret did not long survive her son Henry VII, and in June 1509, she was buried in Westminster Abbey. The tomb under which she lies was commissioned in 1511, by her grandson Henry VIII, from the renowned Italian sculptor Pietro Torregiano, who had also undertaken the works on the tomb of Henry VII and Elizabeth of York.
The epitaph on her tomb was written by Erasmus:
'Margaret of Richmond, mother of Henry VII, grandmother of Henry VIII, who gave a salary to three monks of this convent and founded a grammar school at Wimborne, and to a preacher throughout England, and to two interpreters of Scripture, one at Oxford, the other at Cambridge, where she likewise founded two colleges, one to Christ, and the other to St John, his disciple. Died A.D.1509, III Kalends of July [29 June]'.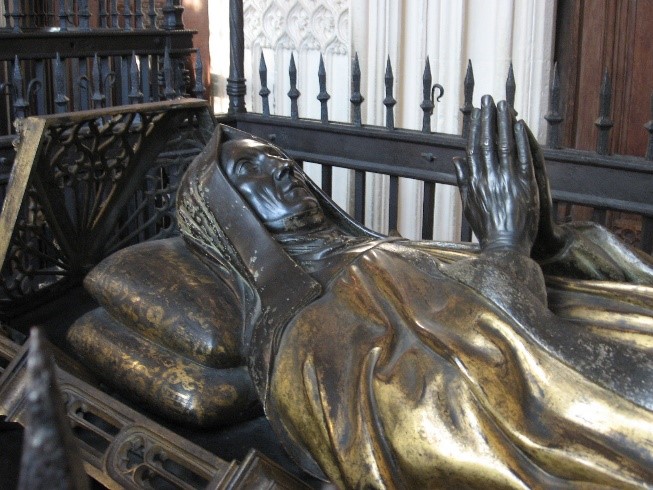 ---
This article is part of a Profile on Lady Margaret Beaufort available in paperback and kindle format from Amazon.
---
Listen to our interview with Renaissance English History Podcast on Lady Margaret Beaufort here.
---
The map below shows the location of the places associated with Margaret Beaufort discussed in this article.