Mary, Queen of France: From Royal Court to Rural Suffolk
Mary spent the majority of her childhood at Eltham (1), then in Kent, now in Greater London, as her mother, Elizabeth of York, had done. It was at Eltham that Mary was seen by Erasmus, when Thomas More brought him to visit the younger children of Henry VII. Mary was only three, but he noted her beautiful golden hair, as she played alongside Prince Henry. The meeting probably took place in the Great Hall at Eltham, built by Mary's grandfather, Edward IV, and which can still be visited, although the rest of the original palace has largely disappeared. It is still worth visiting, however, for the superb 1930s home created there by the Astor family, and the delightful gardens.
Another of the frequently visited royal homes of Mary's childhood, was Richmond (2), rebuilt by Henry VII after the devastating fire which destroyed the old palace of Sheen. It was at Richmond that Mary witnessed the marriage of her sister, Margaret, to James IV of Scotland, and the jousts that followed.
After the death of her mother, in February 1503, seven-year-old Mary spent some time in the household of her grandmother, Lady Margaret Beaufort, Countess of Richmond and Derby. Lady Margaret's London home was at Coldharbour (3), near modern-day Upper Thames street. The first house at Coldharbour was probably built during the reign of Edward II. It became part of the inheritance of the Holland dukes of Exeter. By the time of Henry IV, it was in the possession of the crown, and was given by him to his son, later Henry V. Later, it was granted by Richard III to the College of Arms, before being given to Lady Margaret in 1485. Repairs were ordered by the king, and Thomas Littley, his clerk of works, supervised the improvements. Among them was a display of Margaret's coat-of-arms, in a window visible from the river.
As Mary grew up, she became a more prominent part of court ceremonial. She was present at Windsor Castle (4) when Duke Philip of Burgundy, and his wife, Juana of Castile, were in England during 1506. Her skill on the lute and other instruments was noted, as were her delightful manners and charm, even though she was only ten.
Part of the reason for Henry wishing Philip to see Mary, was his plan for her to marry Philip and Juana's son, Charles, Archduke of Austria and Prince of Castile. The more time Philip could spend with her, the more he was likely to find her an appealing prospect as a daughter-in-law – especially with the money that Henry VII could supply to Philip's perennially broke father, the Emperor Maximilian. Mary and her older brother, Prince Henry, accompanied Philip on a visit to Lady Margaret – not at Coldharbour at that time, but at Croydon (5).
Croydon palace was one of the homes of the Archbishop of Canterbury, used to break his journey en-route from Canterbury to his London home at Lambeth. The site was first mentioned in AD871, as land near the River Wandle, purchased by the See of Canterbury. It would remain in the church's possession for over 900 years. The buildings that Mary would have known dated largely from the 14th century: the Great Hall was probably built in the 1390s by Archbishop Courtney, and renovated some fifty years later by Archbishop Stafford.
Part of the Great Hall and the porch are still extant. The east end collapsed in the eighteenth century, but the west end pulpit remains, with the arms of Henry VI. There is another large room, perhaps a solar, or possibly the audience chamber of Archbishop Arundel, with a later, Tudor period, oriel window. The chapel also remains, probably constructed by Archbishop Bourchier (who married Mary's parents). Archbishop Morton's improvements are faced with the fashionable red brick of the early 1500s. The remains of the dilapidated palace were sold by the church in 1780 and became a calico factory, then later a school, which continues to flourish. Public access is available through booked tours – more information can be found here.
Despite the sudden death of Philip of Burgundy, the betrothal between Mary and Charles went ahead, and a formal treaty sealed the arrangement in 1507. To celebrate, Prince Henry hosted jousts at his house at Kennington (6), over which Mary presided as the leading lady. Kennington was located on the south bank of the Thames, in the district of St Mary, Lambeth. The manor was granted by Edward III to his eldest son, Edward the Black Prince. Prince Edward built there extensively from the 1340s onward, until his untimely death in 1376, before his father. He constructed a Great Hall, a Prince's Chamber, kitchens, and the other usual buildings connected to a royal house.
The Black Prince's widow, Joan of Kent, generally resided there and it was at Kennington that their son, Richard of Bordeaux, was proclaimed king on the death of Edward III. Henry VII granted it to Mary's brother, Prince Henry, but after he acceded to the throne it was little used. Henry demolished most of it in 1531, to provide materials for his new, grand, palace at Whitehall. Today, no trace of the house remains, but it is commemorated in the name of the London district, and its underground station.
Mary's betrothal to Charles continued for some years. A proxy marriage was celebrated, and she was referred to at home and abroad as Princess of Castile. In 1514, however, when the wedding should have taken place, Charles' grandfathers, the Emperor Maximilian and Ferdinand of Aragon, shilly-shallied to such an extent, and betrayed Mary's brother, now King Henry VIII, so comprehensively, that the match was broken off. At Wanstead (7) in Essex, Mary publicly repudiated the proxy wedding vows she had taken, and declared herself free to marry elsewhere.
Wanstead was a hunting lodge in Epping Forest, east and north of London, which was much favoured by Henry VII who acquired in 1499, and later by Henry VIII. There are numerous records of court hunting parties there during both reigns. In 1511, the office of Keeper of the Park at Wanstead was granted to Henry VIII's friend, Charles Brandon, later Mary's husband.
Sir Richard Rich was a subsequent Keeper of the Park, and he was granted the whole manor by Edward VI. It was then sold to Robert Dudley, Earl of Leicester, who spent much of his time there, along with his second wife, Lettice Knollys. Elizabeth I used Leicester's debts to the crown as an opportunity to take Wanstead back into royal hands, but granted it to Lettice's son, Robert Devereux, Earl of Essex. Essex died on the block in 1601, and Wantstead reverted to the crown. Subsequently, it was owned in turn by George Villiers, Duke of Buckingham, and favourite of James VI & I; Sir Henry Mildmay, and James, Duke of York, later James II. The house was pulled down in the early eighteenth century, and replaced with Wanstead Hall, which was itself demolished in 1825. The site is now contained within Wanstead Park, and an eighteenth-century folly remains.
With Mary now free from her betrothal to Charles, a new marriage was swiftly arranged to discomfort Maximilian and Ferdinand. Henry promised his sister to the fifty-two year old, sickly, widowed Louis XII of France. The marriage was arranged before the end of August, and in late September, Mary, now Queen of France, except for the final ceremony, travelled with her brother and the English court to Dover Castle to embark for France.
Dover Castle (8) was one of the most formidable fortresses in all England. Originally a Roman fortification, then an early Christian minster, the site was fortified by William the Conqueror. A hundred years later, Henry II constructed the mighty stronghold that can still be seen today, cared for by English Heritage. For Henry VIII, Dover was key to his strategic defences along the English coast when, after Mary's death, the breach with Rome made England more vulnerable to attack. The castle continued to have military significance – it was at Dover that the Dunkirk evacuation was planned during World War II. The last gun batteries were removed in the 1950s.
Mary was trapped at Dover by bad weather, eventually sailing just after dawn on 2nd October. At the last minute, as she bade her brother goodbye, she forced him to confirm his promise that, should Louis XII die, she would be permitted to choose her own second husband. It seems to have been an open secret that Mary was attached to Henry's friend, Charles Brandon, now Duke of Suffolk, but whether Henry thought she seriously intended to marry him, if she could, is debatable.
Mary spent less than three months as Queen of France, fêted everywhere she went, and showered with jewels by Louis. She performed her duty to the admiration of everyone who saw her, but, as soon as she was widowed, she determined to have her own way on remarriage. Henry sent Suffolk to fetch her, having exacted a promise that the duke would not propose to Mary. She took matters into her own hands, persuading Suffolk to defy the king and marry her immediately. Henry was furious, or at least affected to be, and only forgave them when Mary promised him the greater part of her French dower. The couple returned to England in April 1515, and a formal wedding was staged at Greenwich (9) in May.
Greenwich was one of Henry VIII and his first wife, Katharine of Aragon's, favourite palaces. Henry was born there, the couple were married there, and it was the birthplace of their daughter, another Mary. Throughout the ten years following Mary's marriage, the court was often there, and she frequently with it, taking part in the many ceremonies staged there. The Tudor palace was largely destroyed in the seventeenth century to make way for the Queen's House, and later the Old Royal Naval College, designed by Sir Christopher Wren. Read more on archaeological finds at Greenwich here and here
As well as visiting the court, Mary and Suffolk had country homes. They lived mainly in Suffolk at Westhorpe Hall (12), around 16 miles from Bury St Edmunds. Here, Mary lived in some state as the queen-dowager of France. There are traces of Westhorpe in the Residential Home that now stands on the site, but they are not obvious to the casual observer. More evocative is the church, where Mary would have worshipped on important feast days. It has been suggested that Mary's viscera were buried at the church, after the embalming of her body.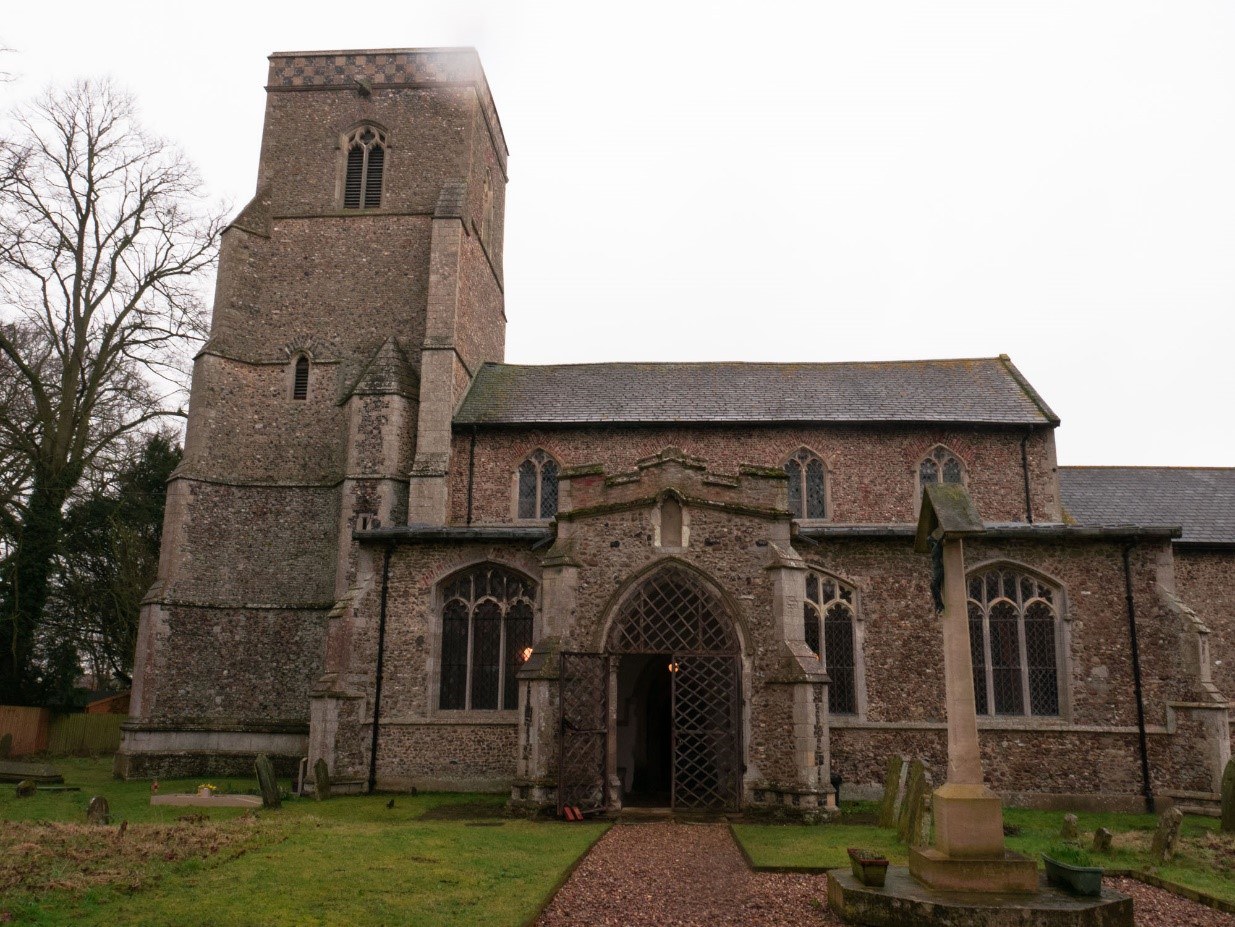 One of Mary's favourite places to visit was Butley Abbey or Priory (10), not far from the Suffolk coast. The priory was an Augustinian house, founded in 1171, although the buildings Mary would have known date from two centuries later. It was a huge foundation, the buildings and gardens covering over twenty acres. Mary visited regularly – even staying for two months in 1527. It was recorded that one day, the weather was so hot, that she ordered tables to be laid outside. In typical English fashion, the weather changed and Mary and her fellow picnickers had to race for shelter in the church.
Mary did not live to see the dissolution of the religious houses, which began the year after her death. Butley surrendered in 1538. It was granted first to Thomas Howard, 3rd Duke of Norfolk, and then sold on. Passing through various hands, it fell into dereliction, until some of the gatehouse (where Mary would have stayed) was restored in the mid-eighteenth century. It is currently a wedding venue and can also be rented for short term holidays.
Like all courtiers who could afford it, Mary and Suffolk also had a town house. As was usual, the name of the house changed as the property changed hands, and when Mary inhabited it, it was known as Suffolk Place (11). It occupied a large site near what is now Borough High Street, on the south side of the Thames. It is commemorated in the modern, high-class residential development named Brandon House. It is not to be confused with the later Suffolk House that stood at the end of the Strand, later called Northumberland House.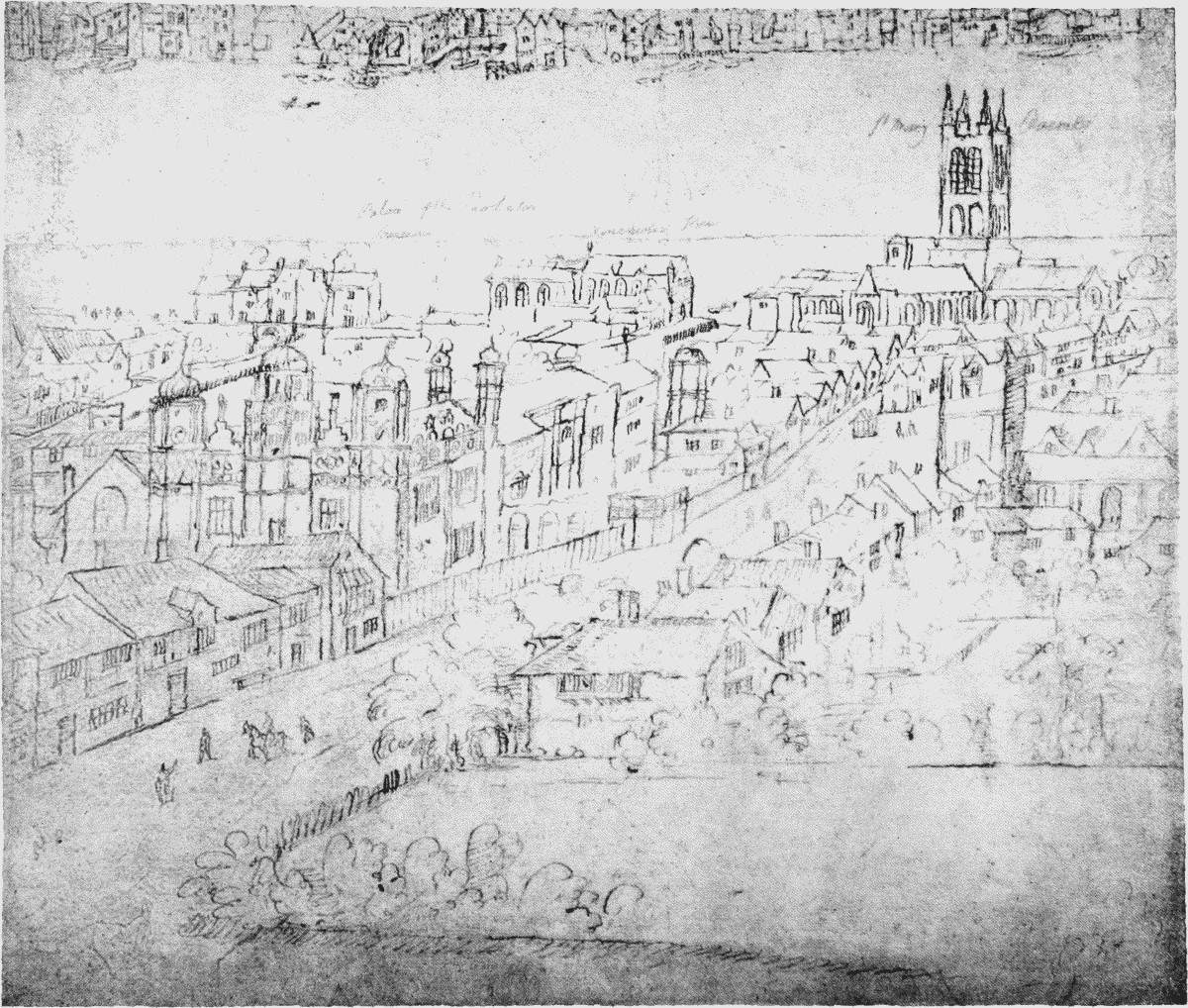 From the information that can be gleaned from Wyngaerde's sketch, dating from about thirty years after Mary's death, Suffolk Place was built in the typical Tudor style of redbrick, with turrets, rather like the clock-tower at Hampton Court.
Whilst it is generally thought that Mary and Suffolk built the property, his family had had a reasonably large house in the location since at least 1465, when Sir John Howard, later 1st Duke of Norfolk, visited Sir William Brandon there. It passed on the death of Sir William's widow, Elizabeth née Wingfield in 1497, to their son, Sir Thomas Brandon. Having no children of his own, he left a life interest in it to Jane, Lady Guildford, with his nephew, Charles Brandon, (Mary's husband) to inherit on Lady Guildford's death. This was the same Lady Guildford who accompanied Mary to France, although why Sir Thomas left her his house is a mystery – there is no obvious family relationship.
Suffolk made an arrangement with Lady Guildford to take possession on Sir Thomas' death, paying her £47 6s 8d per annum in exchange. He and Mary entertained Emperor Charles V at there in 1522, before the royal party went hunting in nearby Southwark Park. The property was later exchanged with some of Henry VIII's lands at Cannon Row, on the north side of the river. For a period in the 1540s, there was a royal mint in part of the property, and the gardens were well maintained, with 3,000 red and 1,000 damask roses planted.
In August 1555, Mary's niece, now Queen Mary I, who had often visited her aunt and cousins at Suffolk Place in the 1520s, stayed overnight with her husband, King Philip, after seeing the Lord Chancellor, Bishop Gardiner nearby. Shortly after, Queen Mary gave the property to the see of York, in compensation for its loss of York Place, redeveloped as Whitehall Palace. The house was demolished in the early 1560s, not long after Wyngaerde's sketch was made.
Mary died before the Reformation came to England, and there is no evidence that she had anything other than a completely conventional outlook on religion. Her fondness for staying in religious houses was not unique, and the pilgrimage she made to Walsingham (13) in the company of Queen Katharine of Aragon was certainly not unusual. Walsingham was one of the holiest shrines in England before the dissolution of the monasteries.
Walsingham on the north Norfolk coast was a dedicated to the Virgin Mary, who was believed to have appeared to a local woman in the eleventh century, and requested that a replica of her home be made in England. This was duly done, and for four hundred years, it was a place of pilgrimage, particularly patronised by women who wished for a successful pregnancy, or to give thanks for a birth. Elizabeth of York made the pilgrimage, Katharine of Aragon visited more than once, and Anne Boleyn planned to make a visit, although there is no record of her doing so. Henry VIII himself made a pilgrimage of gratitude following the birth of his ultimately short-lived son, Henry, Duke of Cornwall in 1511.
The shrine was destroyed in 1538, but recreated in 1938, with first an Anglican and then a Roman Catholic place of worship built. It is important for ecumenical gatherings between the churches.
Another of Mary's homes, although it remained in the ownership of Henry VIII and was probably not visited so frequently as Westhorpe, was Castle Rising (14), near King's Lynn, Norfolk. Although not easy to reach, Castle Rising is well worth the trouble of a visit. It is a remarkably well-preserved Norman keep, in the care of English Heritage, first constructed in the late 1130s, by William d'Albini (or d'Aubigny), a Norman knight who married Adeliza of Louvain, widow of Henry I, and stepmother of the Empress Maud.
William d'Aubigny was granted the earldom of Arundel, and his descendants remained at Castle Rising until it was sold to Isabella of France, wife of Edward II. Following her 'retirement' after her son overthrew her and her lover, Roger Mortimer, Isabella lived at Rising until her death, when the property came to the crown. It was sold by Henry VIII to Thomas Howard, Duke of Norfolk, whose distant descendant (via daughters, rather than sons), Lord Howard of Rising, manages it for English Heritage.
Mary died at her home of Westhorpe. She was buried in the great Benedictine Abbey, at Bury St Edmunds. As the name suggests, this was a shrine to the Anglo-Saxon king and martyr, St Edmund, whose cult was well-established in the Middle Ages. As was frequently the case, there were many disputes about the relative rights and duties of the abbey and the town. This culminated in serious rioting in the 1320s, and a resolution of the matter had to be made by the Bishop of Ely on behalf of the king. Fifty years later, Richard II and his queen, Anne of Bohemia stayed in the abbey for ten days, costing the monks 800 marks (c £550).
Sixty years later again, Humphrey, Duke of Gloucester died during a Parliament intended to resolve the tensions at Henry VI's court. Many believed he had been poisoned, and the ill-feeling this suspicion engendered contributed to the Wars of the Roses.
The abbey surrendered to the king in November 1539, and the abbot and his forty-three monks were granted pensions. Mary's remains were removed and carried to the adjacent church of St Mary's (15), where they remain to the west of the high altar, under a plain slab.