Each day on the Tudor Times website we publish a short snippet of information about interesting events that occurred during the Tudor and Stewart period. The following are some highlights for April.
Prince Arthur Died
On 2nd April 1502 Arthur, Prince of Wales, died, aged 15, at Ludlow Castle. Arthur was the great hope of the Tudor dynasty, his birth in 1486 having been seen as the confirmation from heaven of his father's right to the throne and his death gave his parents intense grief, both personal and political.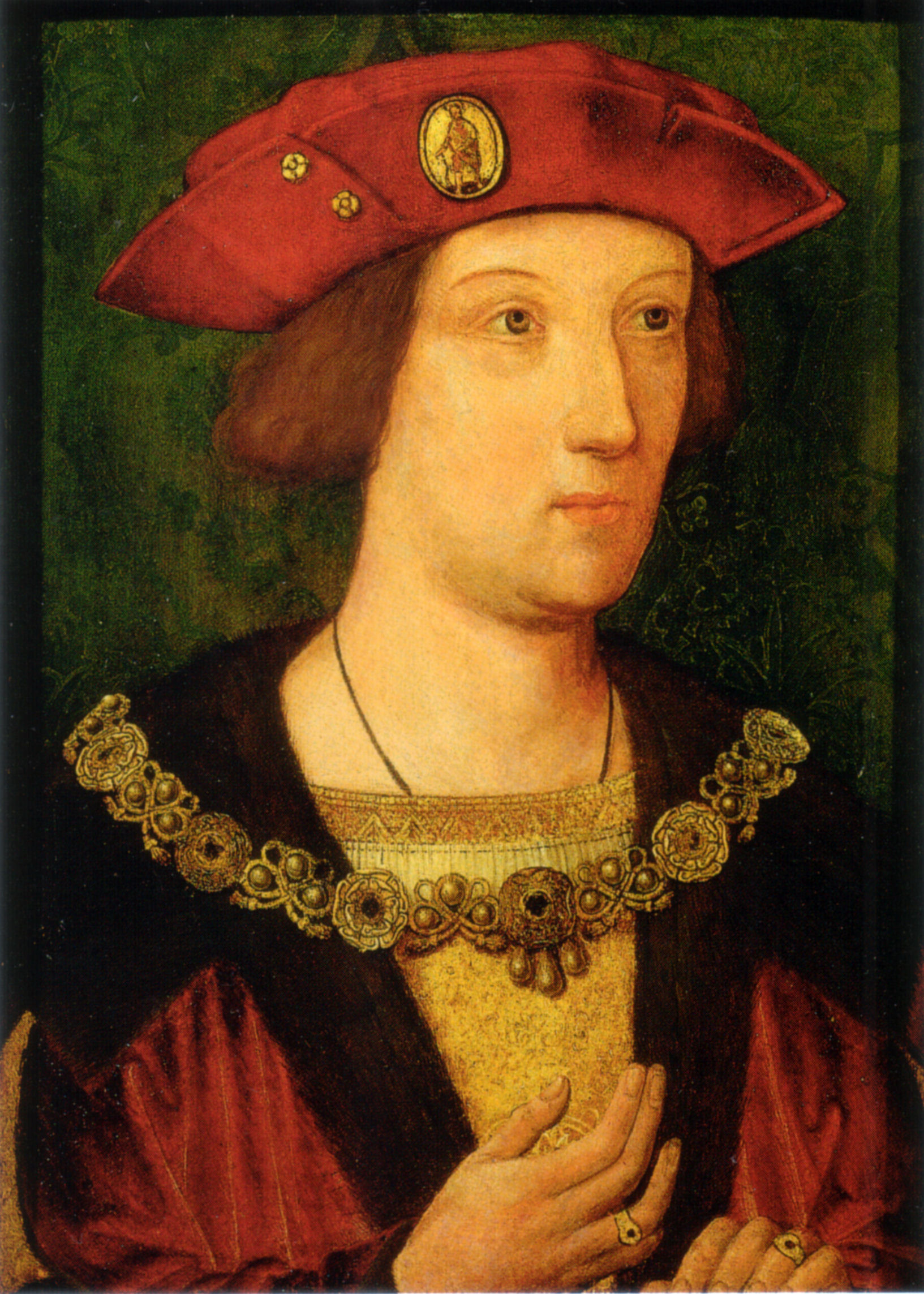 He was carefully brought up, with the best of teachers, and began his training for kingship early with his own Council in Wales. He was married when he was just past his fifteenth birthday, to Katharine of Aragon. The secrets of their marriage-bed affected the whole course of English history. The exact cause of the Prince's death is unknown. He was buried in Worcester Cathedral where his tomb still stands.
Elizabeth Howard Died
On 3rd April 1538, Elizabeth Howard, Countess of Wiltshire and mother of Mary, Anne and George Boleyn, died. Lady Elizabeth was the daughter of the Earl of Surrey, later Duke of Norfolk and was a lady-in-waiting to both Elizabeth of York and Katharine of Aragon. During the years when her daughter, Anne, was being courted by Henry VIII, Elizabeth acted as her chaperone. There is no record of Elizabeth's feelings when Anne and George were condemned to death in a trial presided over by Elizabeth's brother, the Duke of Norfolk, but following the executions, Elizabeth retired to the country for the remaining two years of her life.
Maud Parr was Born
On 6th April 1492 the wife of Thomas Green of Green's Norton, Northamptonshire, bore a daughter, Matilda, or Maud as she was usually known. In a complex web of intermarriage, Maud was married at the age of about 16 to Sir Thomas Parr, whilst her sister, Anne, was married to Parr's step-father, Sir Nicholas Vaux, one of Lady Margaret Beaufort's affinity, which brought Maud into court circles. The Parrs had three children, Katherine, later the sixth wife of Henry VIII, William, later Marquess of Northampton, and Anne, later Countess of Pembroke. Maud became a favoured lady-in-waiting of Katharine of Aragon, whom she attended at the Field of Cloth of Gold.
Charles VIII of France Died
On 7th April 1498, Charles VIII of France died after hitting his head on a stone door-lintel. He was only twenty-eight but had been King from the age of thirteen, and had packed a lot into his reign. For the first years of his reign, his sister, Anne of Beaujeu, acted as Regent. It was during that period that the French crown gave moral and financial aid to Henry Tudor's successful campaign for the English throne. Charles also amalgamated the independent Duchy of Brittany into France, through his forcible marriage to the fourteen year old duchess, Anne. Charles' real ambitions, though, were in Italy. Invited by the Pope to press his claims to the Kingdom of Naples, he invaded Italy and unleashed sixty-five years of war as the Spanish and French crowns fought for dominance in the Italian peninsula. Read about the European alliances of the 1490s here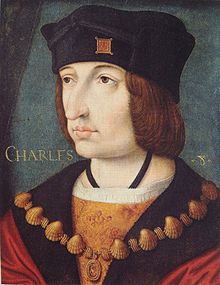 James V of Scotland was Born
10th April 1512 saw the birth of a son to James IV of Scotland and his English wife, Margaret Tudor. The baby was not the first born to the couple but previous infants had died young. The baby became King of Scots as James V at the age of eighteen months, when his father was killed at the Battle of Flodden. James, after a troubled minority, during which his mother fought to retain the Regency, became a capable monarch.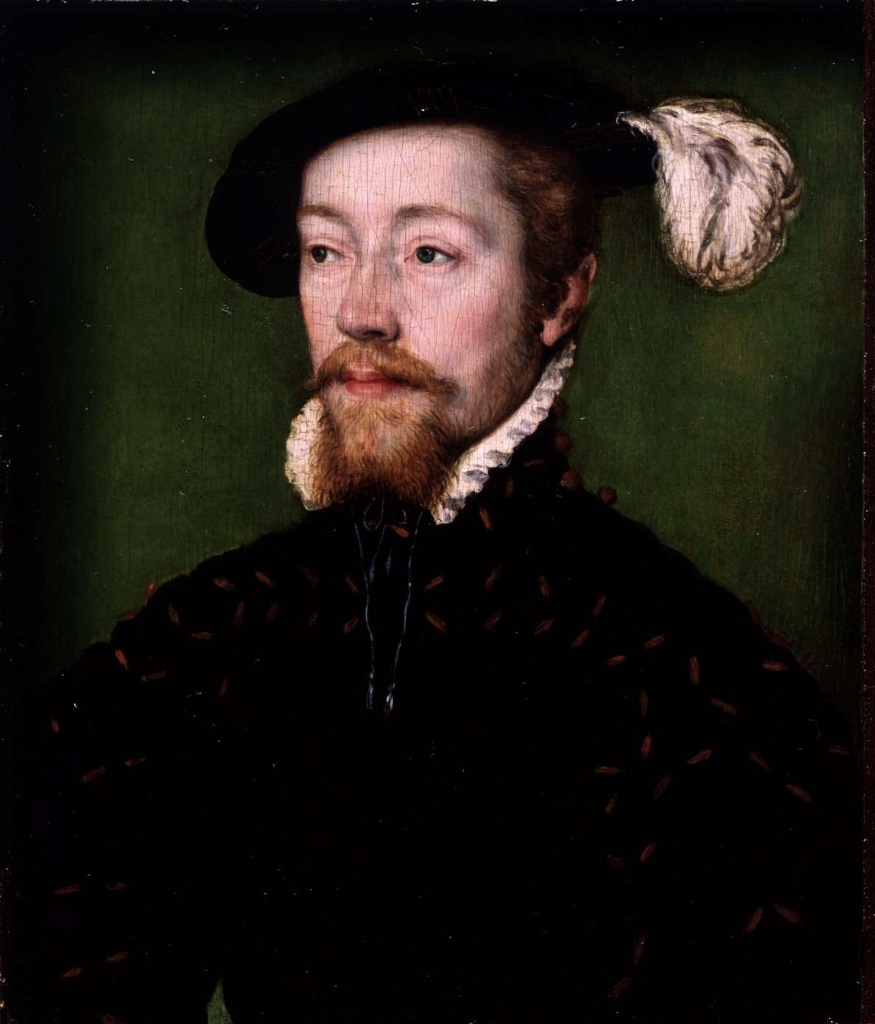 The rivalry for control was, in part, a manifestation of the ongoing struggle between France and England for influence in Scotland. James never forgave his uncle, Henry VIII, for his interference in his realm, and it was in yet another skirmish with his southern neighbour that James fell ill and died, aged just thirty, leaving his eight-day old daughter, Mary, as Queen of Scots.
Catherine de Medici Born
On 13th April 1519 Catherine de Medici was born in Urbino, Italy, to Lorenzo and a French noblewoman, Madeleine de la Tour d'Auvergne, whose heiress she was. Catherine was also great-niece to Pope Leo X who arranged her marriage to Henri, Duc d'Orleans, son of Francois I of France. Catherine and Henri were married aged fourteen, and forced to consummate their union under the gaze of her father-in-law. This began an unhappy marriage, in which Catherine was ignored by her husband, who paraded his mistress, Diane de Poitiers, openly. The first of Catherine's ten children was born after nearly eleven years of marriage.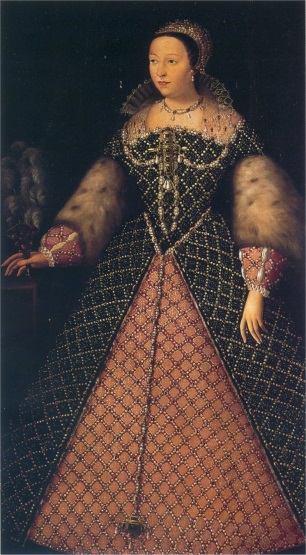 Henri II died in 1559 and Catherine spent the next thirty years fighting as Regent and Queen Mother to maintain her position and that of her children, whilst trying to steer a middle course in religious affairs. In the latter, she failed, and the Wars of Religion between Catholics and Huguenots resulted in horrific bloodshed. Catherine was a notable patron of late Renaissance culture, but has a sinister reputation as an intriguante and poisoner – probably not entirely deserved.
---
Henry VII Died
On 21st April 1509 Henry VII died, at his favourite palace of Richmond. The King had been ailing for several years with throat and lung infections. During the first eighteen years of his reign, Henry had made great strides in turning a war-torn kingdom into a coherent whole. Although he had twice commanded an army – at Bosworth, and in France - he was no seeker of military glory, preferring to concentrate on trade and the application of the law.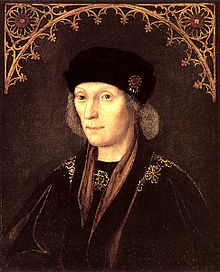 In the period 1501-1503 his wife and her new-born baby, an eighteen-month old son, and his fifteen year old heir all died and he lost his thirteen-year-old daughter to marriage in a foreign land. He never really recovered from these blows and spent the last six years of his reign in an increasing atmosphere of oppression.
On the death of his father, Henry VIII, aged seventeen, ascended the throne, to the delight of everyone. Technically still under age, the Council and his grandmother, Margaret Beaufort, were in control until June, but Henry was soon making himself felt.
Isabella of Castile was Born
On 22 April 1451 Juan II of Castile's second wife, Isabella of Portugal, gave birth to a daughter, named for her mother. There was no thought that the young Isabella of Castile, with an older half-brother, and later, a brother, would ever be more than some prince or King's wife, but from an early age she had her eyes on a throne for herself. On the death of Enrique IV, her half-brother, she claimed the throne of Castile in her own right, being crowned in Segovia in 1474. The action led to a civil war, in which she eventually triumphed.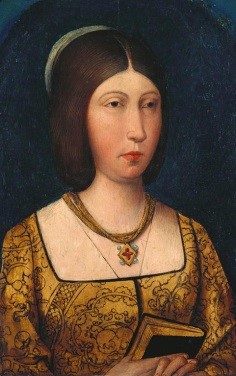 Her marriage to Ferdinand II of Aragon enabled them to conquer the last Moorish kingdom in Europe and united Spain more or less into its current boundaries. Their dynastic alliances took their grandchildren to almost every throne in Europe. Not content with Spain, Isabella funded Christopher Columbus' exploration which brought the riches of the New World to her kingdom.
Shakespeare Died
On 23rd April 1616 William Shakespeare died at his home in New Place, Stratford-upon-Avon, Warwickshire at the age of fifty-two. He seems to have been ailing for some time. He left a widow, Anne, and two daughters, Susanna and Judith, his son having died some twenty years before. He also left a legacy of English that has influenced language and culture ever since. Many of our most common phrases and sayings are first recorded in Shakespeare's writing, and his cycle of history plays has coloured our perceptions of the fifteenth century and the wars between Lancaster and York. His star-crossed lovers, Romeo and Juliet, and his flawed hero, Hamlet have enthralled audiences for four hundred years.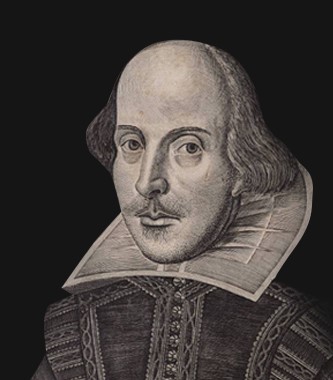 Shakespeare was Born
On 26th April 1564, John Shakespeare and his wife Mary, nee Arden, took their first son to be baptised at Holy Trinity Church, Stratford-upon-Avon. Little did they know that the baby at the font would become one of the most famous Englishmen ever born. William Shakespeare wrote about forty plays, considered to contain some of the finest prose and poetry in the English language as well as sonnets which have enchanted lovers for four hundred years. His career as an actor and playwright took him to the top of his profession, playing for both Elizabeth I and James VI & I.