On This Day
February Highlights
Each day on the Tudor Times website we publish a short snippet of information about interesting events that occurred during the Tudor and Stewart period. The following are some highlights for February.
It was a busy month for births, and deaths in particular!
Mary, Queen of Scots, was Executed
On 8th February 1587 Mary, Queen of Scots, was executed at Fotheringhay Castle. She had been held captive in England since 1568, when, following defeat at the Battle of Langside, she fled across the Solway Moss to seek support from her cousin and fellow-monarch, Elizabeth I, to regain her throne. Mary had been deposed following the death of her husband, Lord Darnley, and her subsequent marriage to the Earl of Bothwell, widely believed to have been behind the assassination of Darnley. During her time in England, once it became apparent that Elizabeth would not help her, she sought to escape. She became embroiled in plots to free her, and eventually, seemed to be party to a plan to assassinate the English Queen. This was enough for a trial to be held, whose validity she refused to recognised, and for her to be condemned and executed.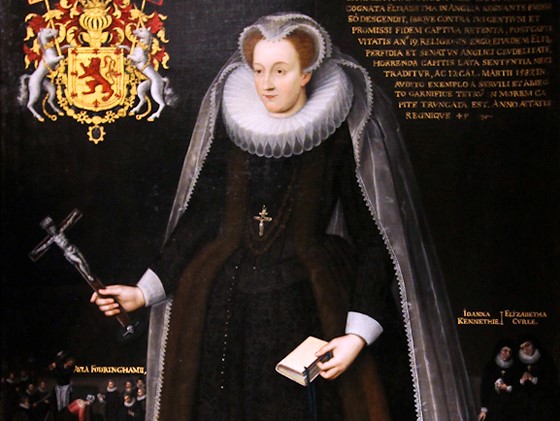 Henry Stuart, Lord Darnley was Assassinated
On 10th February 1567, Henry Stuart, Lord Darnley, known as King of Scots, was assassinated. Darnley, who was the great-grandson of Henry VII, had married his half-cousin, Mary, Queen of Scots, in 1565, a wedding which caused rifts between Mary and many of her nobles. As well as Darnley's own personal shortcomings (he was perceived as arrogant and over-ambitious) he represented a branch of the Stewart family that had maintained a feud with the powerful Hamiltons for forty years.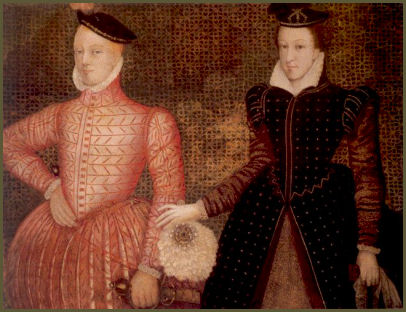 Mary's half-brother and chief adviser, the Earl of Moray, was angered by the marriage. The Queen of England, Elizabeth, cousin to both bride and groom, was also unhappy with the match (although it is possible she had secretly engineered it, foreseeing it would create trouble for Mary).
The marriage had been spectacularly unsuccessful, personally and politically, the only positive outcome being the birth of a son. It has never been established exactly who was behind the assassination, and theories implicating Mary, the Earl of Bothwell, and Moray are all plausible.
Elizabeth of York Died
On 11th February 1503, Elizabeth of York, Queen of England died in the Tower of London. It was her 37th birthday. The daughter she had borne nine days earlier also died. Elizabeth was a pivotal figure in the resolution of the Wars of the Roses. As the daughter of Edward IV, she commanded the loyalty of those Yorkists who had been unhappy with the deposition of her brothers and her marriage to Henry VII brought York and Lancaster together.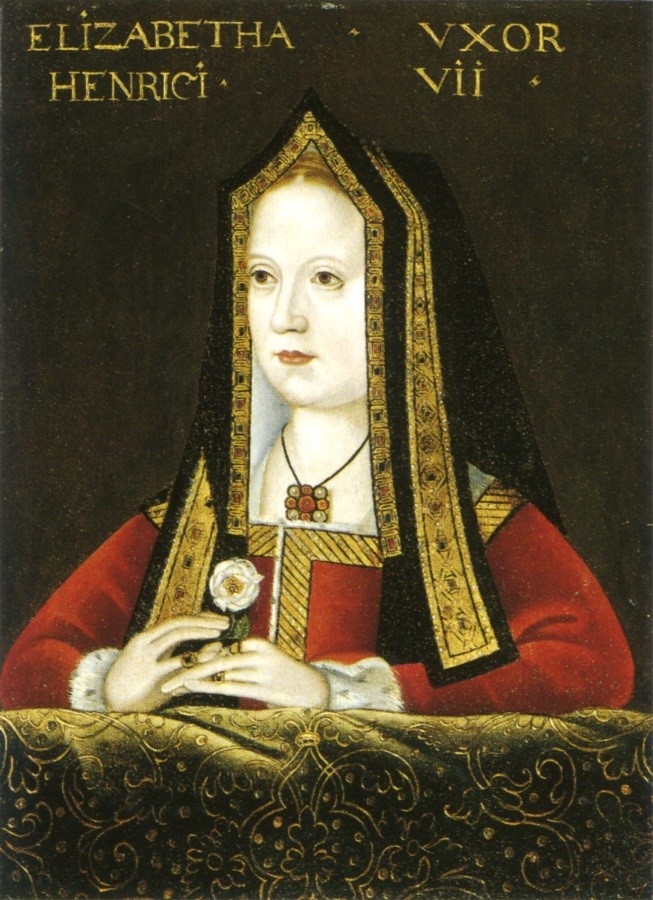 Elizabeth inherited the good looks of her famously attractive parents, Edward IV and Elizabeth Woodville, but also the Yorkist tendency to plumpness. She bore seven children in total, but only three lived beyond 15 years of age – Henry VIII, Margaret, Queen of Scots and Mary, the French Queen. Her husband and children mourned her death sincerely.
She is buried in Westminster Abbey in the fabulous tomb carved by the Italian sculptor, Torregiano.
Lady Jane Grey was Executed
On 12th February 1554, Lady Jane Grey, aged about sixteen, was executed in the Tower of London. She had been tried for treason and condemned the previous year, following the coup which attempted to put her on the throne in July 1553. Jane was a brave and principled girl – modern scholarship suggests she was less of a passive victim than she has been portrayed in the past, but she was not responsible for the original coup.
Originally, Queen Mary had had no intention of having the death sentence carried out on her young cousin, but a second rebellion, in which Jane's father was prominent, suggested that whilst Jane lived she would be the focus of plots. Jane died firm in her Protestant faith.
There is no definite likeness of Jane. The picture below shows a rare document signed by Jane the Queen.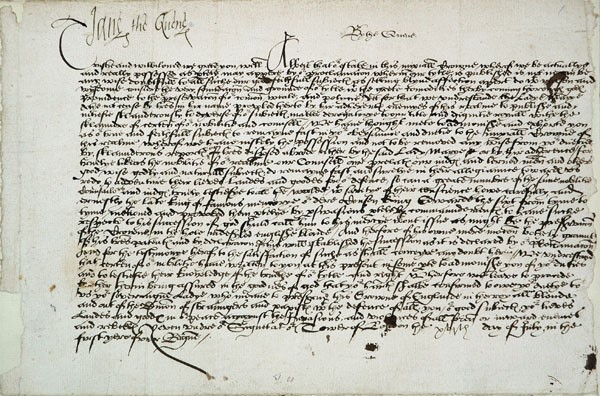 Katheryn Howard was Executed
On 13th February 1542 Queen Katheryn Howard and Jane, Lady Rochford, were executed at the Tower of London. Katheryn, who was the youngest of Henry's wives, probably only about twenty when he married her (although she may have been younger) was the niece of the Duke of Norfolk, and had been maid-of-honour to her predecessor, Anne of Cleves.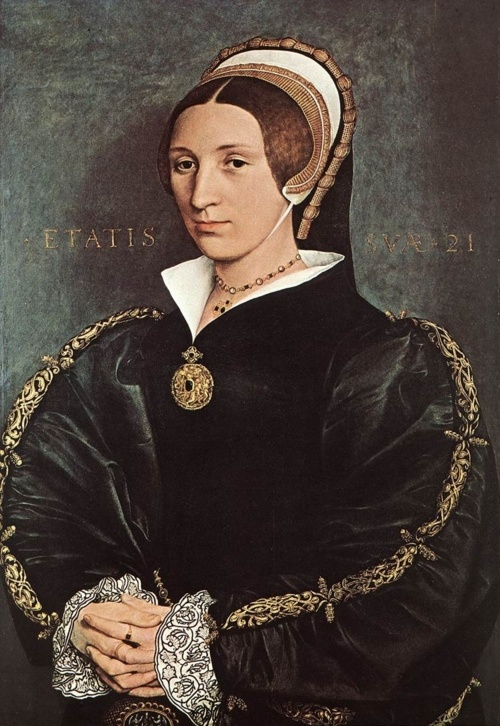 For some reason that passes all understanding, Katheryn was indulging in a relationship, whether consummated or not, with a gentleman of Henry's Privy Chamber, Thomas Culpepper. During the progress the King and Queen had made to York, Katheryn had had Culpepper smuggled into her room, aided and abetted by her Lady-in-Waiting, Jane, Lady Rochford. Lady Rochford was the widow of George Boleyn, brother of Queen Anne. One of the places Katheryn and Culpepper secretly met, was Gainsborough Hall.
Mary I was Born
On 18th February 1516, a daughter, Mary, was born to Henry VIII's wife, Katharine of Aragon, at Greenwich Palace. Following a happy childhood, Mary's life was turned upside down when Henry, eager to remarry to secure a male heir, had his marriage to her mother annulled. Mary, now considered to be illegitimate, was downgraded in rank and importance.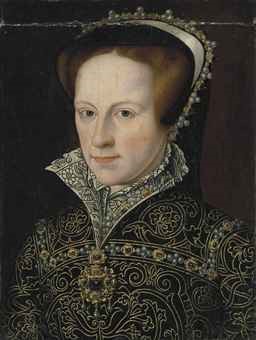 She was eventually restored to the succession, and, on the death of her half-brother, Edward VI, fought off a rival claimant to become the first woman crowned as a Queen-regnant in England. During her short reign, she attempted to restore the Catholic religion, which had been banned during Edward's reign, but, living only five years, and contending with other problems, her efforts failed. Read our in-depth feature on Mary here.
Emperor Charles V was Born
On 24th February 1500, Charles was born to Philip, Duke of Burgundy and Archduke of Austria, and his wife, Juana of Castile, heir to the kingdoms of Castile and Aragon. Charles' father died when he was only six, and his mother was incarcerated for most of the rest of her life, alleged to be mad. Charles was brought up in Burgundy by his paternal aunt, Marguerite of Austria. He was heir to Spain and its territories in the New World, as well as Burgundy, and he also succeeded his grandfather, Maximilian I, as Holy Roman Emperor in 1519.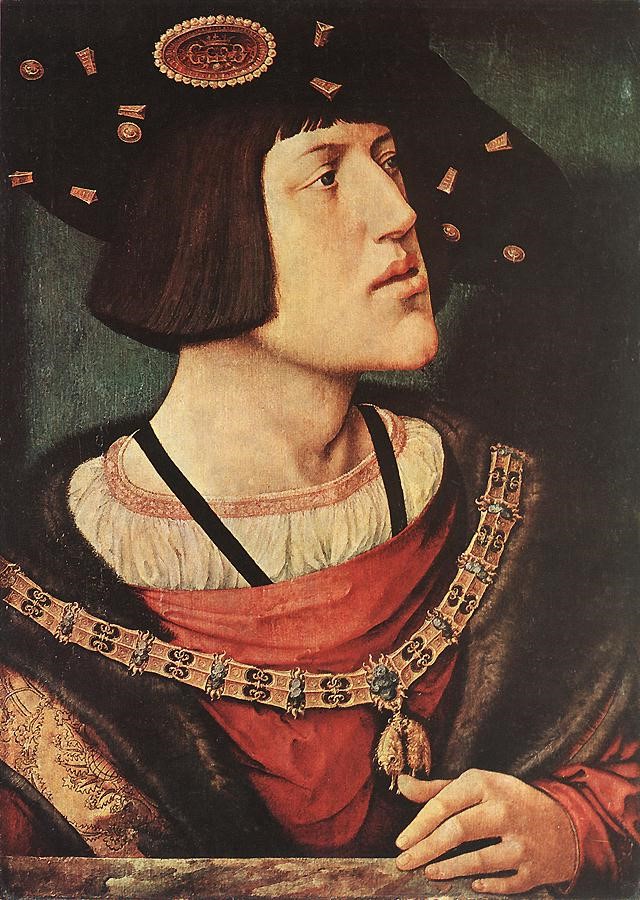 He thus ruled over a greater expanse of territory than any ruler in Europe since Charlemagne and is known as Emperor Charles V. Charles' life was largely focused on war with France over Italy, war in Hungary to repel the Turkish advance into Europe, and war with the Protestants to maintain Catholic unity. He was partially successful in everything, but victory was never complete. He abdicated in 1556, and died two years later, worn out with work, worry and gout.