Penelope Devereux: Life Story
Chapter 2 : Court and Marriage (1581 - 1590)
During 1581, Penelope was in close attendance on the Queen. It was a period of extravagant display, as Elizabeth, for the last time, entertained thoughts of marriage, on this occasion with the French Prince, the Duc d'Alencon. There were masques and jousts to attend, and even the celebrations surrounding the return of Francis Drake from his circumnavigation of the globe. The whole court attended at Deptford when Elizabeth knighted him. However, as Penelope was now eighteen, and was not formally appointed to the role of maid-of-honour to the Queen, the time had come for her marriage to be arranged.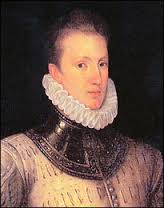 Philip Sidney was struck off the list by her guardian. From having been the heir to both his uncles (the Earls of Warwick and Leicester), he had now been supplanted by Penelope's new half-brother, Robert Dudley, Lord Denbigh. Sidney was therefore not a particularly good prospect for the daughter of an Earl, and Penelope's dowry was somewhat in doubt.
Instead, Huntingdon proposed a marriage with Robert, 3rd Baron Rich, a major landholder in Essex, and of a similar age to Penelope. Rich, as a second son, had inherited unexpectedly. Not anticipating that he would become a Baron, he had entered the House of Commons representing Essex on 2nd February, 1581, then inherited the Barony (which debarred him from the Commons) on 27th February the same year. Lord Rich would have appealed to Huntingdon as he was a radical Puritan, supporting Calvinist preachers, and later, running into disputes with the conservative John Aylmer, Bishop of London.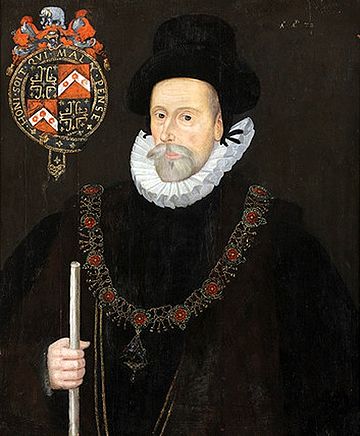 Penelope and Lord Rich were married in the autumn of 1581. There was trouble over her dowry, as the Essex estates were still in dire financial trouble. Her grandfather, Sir Francis Knollys, assisted to the tune of £500. It was later claimed that Penelope had protested against her marriage, and that Rich was a harsh husband, but, since the source was her second husband, it may be prejudiced. It is certainly the case that Lord Rich was less well-educated than his wife, so perhaps they did not have a great deal in common. Nevertheless, personal compatibility, although desirable, was not the primary motive for a marriage (Read more on Tudor marriage here) and it seems unlikely that Penelope would have expected to marry for love.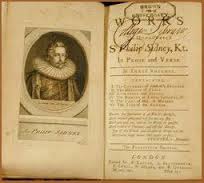 Whatever Penelope's thoughts as a young bride, she was able to continue her life at court in the immediate aftermath of her wedding. She appears to have taken the court by storm. Her looks, charm and grace were praised both then, and for the rest of her life. She seems to have had a beauty and charisma that did not fade with age or repeated childbearing.
Her most famous conquest was none other than the Philip Sidney her father had intended her to marry. She was the inspiration for his sonnet cycle 'Astrophil and Stella'. Whether the relationship ever became more than one of courtly sighing and hand-kissing cannot be known for certain, but there is no evidence for anything more. Read more on Penelope as muse and patroness here.
Penelope spent the next few years between the Rich's London home at St Bartholomew's and their estates in Essex, primarily at Leez Priory. She maintained a copious correspondence with her mother and her siblings, being particularly close to her brother, Robert, 2nd Earl of Essex, naming her second daughter after him – Essex Rich.

Lady Penelope Devereux
Family Tree