Six Wives with Lucy Worsley: Episode Three (A Review)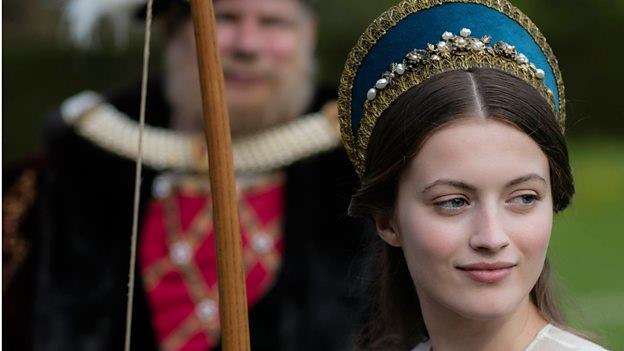 So, how did the final episode measure up to the previous two? This episode had to cover three wives – compared with one in the first episode and two in the second. This is consistent with the level of time that Henry spent with each wife, so made sense as a way to allocate time. Unfortunately, it left me feeling a bit short-changed over Anne of Cleves and Katherine Parr.
I would have liked to learn more about their upbringing, and perhaps about what influenced Katherine Parr's evangelical religious beliefs, It might also have been interesting to hear more about Anne of Cleves' ongoing relationship with Henry, his later wives, and his children. Nevertheless, it certainly achieved its aim of challenging perceptions of Anne as a 'Flanders Mare.'
The other very welcome new perspective was the treatment of Katheryn Howard. The proposition that, rather than being a wanton slut, she was actually a vulnerable young girl, who at best was lacking in guidance and support and had had inappropriate relationships, or at worst had been sexually abused, gave real food for thought. The mis-match between Henry and Katheryn was clearly shown in the scene where he was 'teaching' her archery.
What also worked well was showing how Katherine Parr influenced her step-daughter, Elizabeth's, religious views, and also showed that Henry was a fond father to her, as he was to all his children (so long as they obeyed him!) Katherine Parr's ability to form a meaningful, if still ultimately unbalanced, relationship with Henry which, ultimately, saved her life, was also clear and credible.
One of the aims of the series was to look at Henry's marriages from the point of view of the wives, rather than necessarily consider the political aspects. To this end there was no mention throughout of Henry's chief ministers – Cardinal Wolsey, Thomas Cromwell, the Duke of Norfolk, the Earl of Hertford, and others. Whilst that left the focus on the women, it did make some of the complexities hard to understand – particularly for the last three wives, whose fates were, in part, based on their perceived place in the traditional, Catholic faction of the Howards, or the evangelical group, led by Jane Seymour's brother.
To summarise, the aim of the series was to bring a fresh perspective to the commonly held, somewhat hackneyed view of the wives based on the ditty that every school child knows and we think it did that well.

---
Watch a short clip from Episode Three - Henry's Eye is Wandering - here