William Cecil: Family Life
Chapter 1: Marriage
William Cecil first married in around August 1541. His bride was Mary Cheke, sister of his friend and tutor at Cambridge, John Cheke. Almost nothing is known of Mary, other than that her father had died before 1541, and that she lived in the house of her mother, Agnes, who was a vintner and small business-woman, established near St John's College.
As well as John, Mary had four other siblings, Elizabeth, Alice, Magdalen and Anne, who lived to adulthood. We can infer that Cecil was on good terms with the whole family, as Anne Cheke's son, Hugh Alington, later became one of his secretaries.
At the time of Cecil's marriage to Mary, her brother had not yet achieved the prestige he attained later as Regius Professor of Greek, and tutor to Prince Edward, and so, from the point of view of Cecil's father, the match was a disappointment. The purpose of matrimony was to extend a family's influence, not the indulgence of private affection. Soon after his marriage, Cecil was sent to Gray's Inn to continue his studies, but was obliged to leave Mary behind. Presumably, still financially dependent on his father, he could not afford to maintain her in London.
In May, 1542, Mary gave birth to a son, Thomas. In February of the following year, she died, although the cause is unknown, as is the frequency with which she and Cecil met during the years of their marriage. Based in London, he would have had little spare cash for visiting her. After her death, Thomas remained in Cambridge with his grandmother, Agnes Cheke. Agnes paid Mary's funeral expenses of 6s 8d.
There is no record of Cecil's reaction to Mary's death, but, since he continued to be close friends with John Cheke, we can suppose that they shared their grief.
Mildred Cooke
Cecil's second marriage was far more to the taste of his family. The lady was Mildred Cooke, one of the seven (or possibly eight) children of Anthony Cooke, who, like Cecil's father, was a member of Henry VIII's household. Mildred is usually listed on genealogical sites as the eldest daughter, but, given the naming practices of the time, it is more likely that Anne was the eldest, named for her mother and grandmother. Mildred was named for her step-grandmother.
Cooke was a member of the royal bodyguard, but there was certainly more to him than brawn. Like his new son-in-law, he was trained for the law, although, in Cooke's case, his Inn was Inner Temple. Cooke was a dedicated promoter of education, and his five daughters received the same education as his sons, in Latin and Greek. Two of them, Anne and Mildred, became noted scholars, whilst a third, Elizabeth was known as a poet and accomplished musician. Anthony Cooke was later involved in the tuition of Edward VI, although he was not formally the Prince's tutor.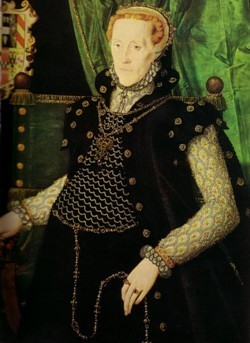 Mildred was described (in bad verse!) as:
'Cooke is comely and thereto
In books sets all her care
In learning with the Roman dames
Of right she may compare.'
On this second marriage, which took place on 24th December 1545, Richard Cecil granted William and his bride land in Rutland and Leicestershire. Presumably Mildred also brought a dowry in either cash or land. This enabled them to set up a household, although there was no thought of leaving London.
Cooke was a member of the Reforming faction at Henry VIII's court, and all of his children followed him in this regard – two of his daughters later being known for their Puritan views. Cecil would have felt quite at home in these circles.
During these first years of married life, there were family visits to pay: to Burghley to see the senior Cecils, with side visits to Katherine, Dowager Duchess of Suffolk at Grimesthorpe, and Lord Clinton (once married to Bessie Blount): to Ingatestone Hall to visit Cecil's colleague, Sir William Petre; and, later, to Bisham to visit Mildred's sister, Elizabeth, who married Sir Thomas Hoby.
There is no information as to exactly where Cecil and Mildred lived immediately after their marriage – most likely, they had lodgings near Gray's Inn. In 1549, once Cecil was a member of the household of the Duke of Somerset, they took up residence at the Rectory, Wimbledon, although they also had a town house in Cannon Row, Westminster. Sharing their home at Wimbledon were Cecil's sister Mary, and Mildred's sister Elizabeth, as well as two wards – Arthur Hall and John Stanhope.
Whilst Cecil was serving Somerset, Mildred was developing her relationship with his wife, Anne Stanhope.She translated a sermon by St Basil the Great on the biblical book, Deuteronomy that she dedicated to the Duchess, and signed, herself, in the usual deferential sixteenth century fashion as the Duchess' 'humble servant and debtor'.