On his father, Sir Thomas Parr's death when he was no more than four, William Parr, as the only son, was left as heir to a reasonable, but not extensive patrimony. His education, both at home at Rye House and later in the household of the Duke of Richmond, followed the most up-to-date humanist teaching, and included Latin, French taught by John Palsgrave, mathematics and music. Throughout his life William Parr was a patron of scholars and musicians as well as having scholarly works dedicated to him by Roger Ascham and Thomas Hoby.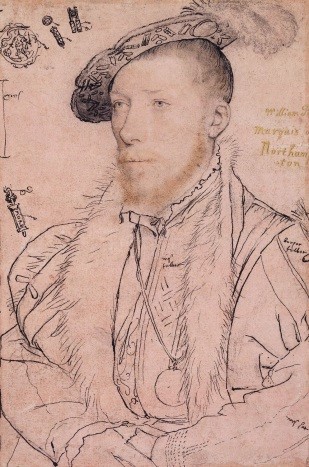 William's first introduction to public life was in 1525 when he was appointed, aged about eleven, as one of the companions to be educated with Henry Fitzroy, Duke of Richmond, the illegitimate son of Henry VIII, at the great castle of Sheriff Hutton, in Yorkshire. It is here that William built relationships with many who would be leading religious reformers in Henry VIII's later years, and in the reign of Edward VI.
Advancement through friendship with the King's son was not the only plan for William and, in February 1527 his mother, Maud, Lady Parr, pulled off what appeared to be a master stroke in Tudor politics, when William was married to Lady Anne Bourchier, only child and heir of Henry Bourchier, Earl of Essex. Essex was embarrassed financially, which was probably his only reason for marrying his daughter to a man of considerably lower rank, but for the Parrs it was a splendid opportunity. Lady Anne would inherit the Barony of Bourchier in her own right, and it was likely, with no male heir to the old Earl, that the King would revive the Earldom in her husband's favour. At the time of the marriage, the couple were too young to co-habit – he was twelve and she just ten.
Sadly, the marriage was a complete disaster. Lady Anne could not bear her husband, and refused to co-habit with him when she reached the appropriate age. They did not live together until the 1540s, but the union continued to be one of misery until a private Act of Parliament dissolved it in 1543 after Lady Anne had eloped with another man and was openly living with him. Rather unfairly in modern eyes, Parr later received the Earldom of Essex, despite the annulment.
Whilst William's marriage to Lady Anne had broken down irretrievably, he was not broken-hearted and consoled himself first with an affair with Dorothy Bray, one of Queen Anne of Cleves' maids-in-waiting, and then with a far more long-standing relationship with Elizabeth Brooke, daughter of Lord Cobham.
During the Pilgrimage of Grace, Parr's own lands were threatened and he was part of the King's force sent north to defeat the rebels. He was knighted during 1538 and raised to a barony the year after.
In 1543, Parr was involved in the War of the Rough Wooings, under the Duke of Norfolk. He does not appear to have been a keen soldier, being more inclined to court life, and his appointment as Lord Warden of the Western Marches in April 1543 was probably a mixed blessing. The appointment, and various other honours he received at that time, including admission to the Order of the Garter, was almost certainly a reflection of his sister, Katherine Parr's, new position as Henry VIII's love interest. He did not distinguish himself particularly in this role, and received a couple of reprimands from the Privy Council for "meddling". After six months, he absented himself, returning to Court in October 1543 where he was at last granted the Earldom of Essex that he had coveted.
Parr, like his sisters, was inclined to the Reformed faith and was put in an exceedingly uncomfortable position when he was given the role of questioning Anne Askew, arraigned for heresy. Askew fixed him with her eye and said "It was great shame for [him] to counsel against [his] knowledge". Parr brought the interview to a hasty close.
In 1547, he was appointed to the new King's Council, under the Protectorship of Edward Seymour, Duke of Somerset and raised to the Marquisate of Northampton, taking part in the jousts to mark the new King's coronation. Now in his thirties, Parr was keen to marry again and beget an heir to his fine new title. The annulment of his first marriage did not automatically make him free to remarry, and he requested the young Edward VI to appoint a "commission of learned men" to determine whether he could take a new wife, his former wife being still alive. The commission was slow to rule, despite generous "gifts". In the end, Parr took the matter into his own hands and married Elizabeth Brooke, but, within a week was ordered to separate from her and never speak to her again, on pain of death. Angry with what he saw as Somerset's unreasonableness, Parr conspired, unsuccessfully, with Sir Thomas Seymour for the overthrow of the Protector. He was not, however, punished, and, when his friend John Dudley, Duke of Northumberland took over the Protectorship he was restored to his position.
Seemingly better at ceremonial than at politics, and a fluent French speaker, Parr was in charge of the reception of Marie de Guise, Queen of Scots on her journey back from France in 1551. Later in that year a further Parliamentary bill recognised his marriage to Elizabeth Brooke whilst allowing him to keep the majority of Lady Anne Bouchier's lands.
Parr's friendship with Dudley, and, perhaps, his zeal for reformation led him to support the accession of Lady Jane Grey to the throne, and on the overthrow of the conspiracy, he was attainted for treason and stripped of his lands and titles. The new Queen, Mary I, was not personally vengeful, and Parr's attainder was reversed on 25 th April 1554, with some of his lands being re-granted to him. The change in religious policy again impugned his marriage to Elizabeth Brooke.
Within weeks of Elizabeth I's accession, Parr was restored to his titles and his place on the Privy Council and his matrimony again recognised. He received various honours and titles under Elizabeth, including a commission as Lord High Steward at the trial of Thomas, Lord Wentworth for the loss of Calais and a seat on the commission for the trial of Thomas Howard, 4 th Duke of Norfolk.
Parr's matrimonial escapades were not yet over. Elizabeth Brooke died in April 1565, not having borne any children, and, not long after, Parr fell madly in love with a young Swedish noblewoman, Helena Snakenborg, who had come to England in the train of the visiting Princess Christiana of Sweden. When Princess Christiana left, Queen Elizabeth allowed Helena to remain as her own maid-in-waiting, and encouraged the match with Parr. However, Lady Anne Bourchier was still alive, and it appears that Parr felt unable to remarry until she died in January 1571. Within weeks Parr and Helena married, he fifty-seven, and she twenty-two. Their union was short-lived as, after ailing for several weeks, Parr died in September of that year.