Women who Married for Love
Chapter 2 : Catherine de Valois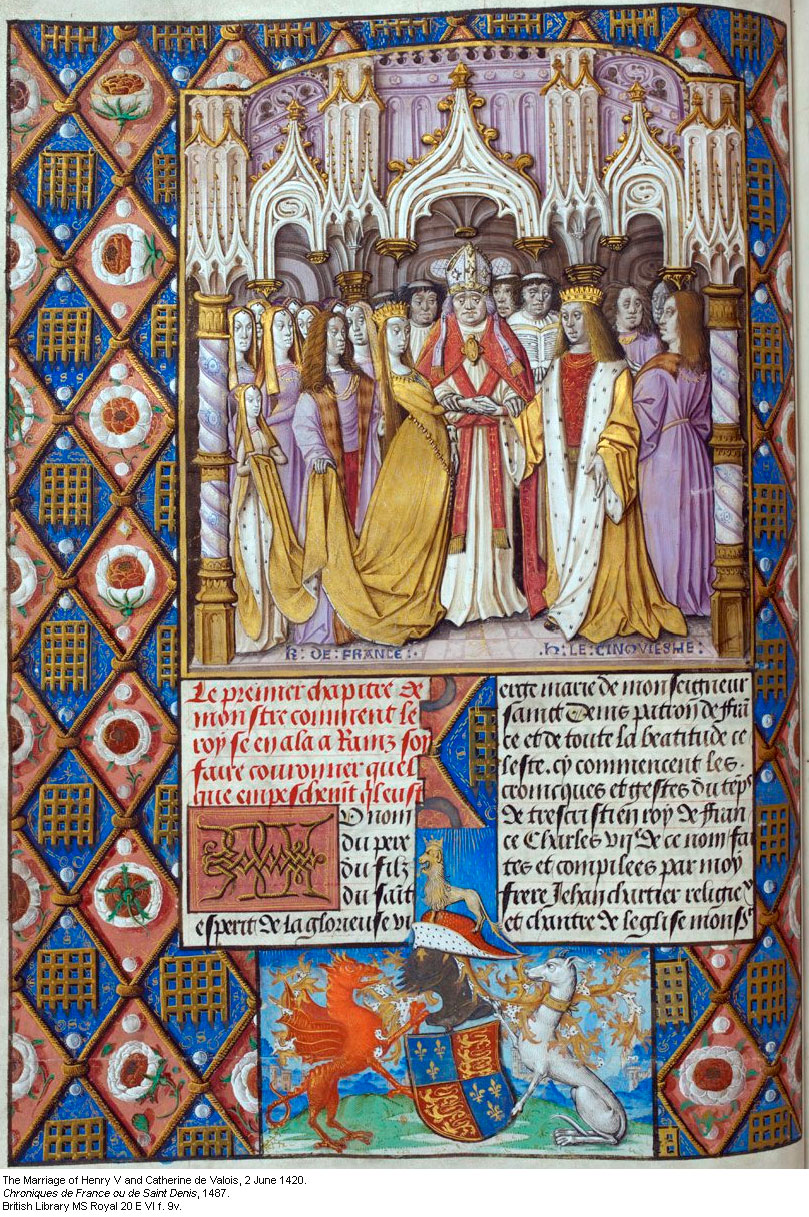 Catherine de Valois married Henry V as part of the 1420 Treaty of Troyes intended to end the Hundred Years War. Their son was to inherit the thrones of both France and England. How Catherine felt about marrying a man fifteen years older, who had utterly devastated her country and had previously been rejected by her older sister as a usurper, is unrecorded. Whatever Catherine's feelings, Henry was delighted with his pretty bride and the new Queen of England was soon pregnant, giving birth to a son.
Not long after young Henry's birth, Henry V died. Catherine was treated with all honour as the new King's mother, but there was no possibility of her being involved in the Regency Council set up to rule both England and France.
The question of her remarriage was considered by the Council after it was rumoured Catherine was being courted by Edmund Beaufort, a young half-cousin of the King. The 13th century example of King John's widow was not a happy one. Isabelle d'Angouleme's second marriage produced nine children who, favoured by their half-brother Henry III, caused dissension in the realm.
To counter the threat of Catherine producing a horde of hungry half-siblings for the King, it was enacted that she needed the adult King's consent to remarry. As Henry was only a toddler at the time, the lords presumably believed this would kick the issue into the long grass. But Catherine had other ideas. In her household, though how he was appointed and his exact role are unknown, was a young Welshman, Owain ap Maredudd ap Tudur (anglicised as Owen Tudor). He is variously referred to as the Queen's steward, page or cup-bearer. One of the romantic tales told of their courtship is that he first came to her notice when, spinning in the dance, he slipped and landed in her lap.
The date of their marriage is unknown, and even whether there was a ceremony at all. However, given only the requirement for consent, if Catherine and Owain said they were husband and wife, then, provided there was no impediment to their matrimony, they were. The Parliamentary Act requiring royal consent might make them criminals, liable to punishment, but it could not invalidate the marriage, which produced at least four children.
The nobles' fears were confirmed. Henry VI became very attached to his half-brothers, marrying the elder, Edmund, to the Lancastrian heiress, Margaret Beaufort, thus founding the Tudor dynasty. Catherine died aged only 35, in the seclusion to which she had been banished following her indiscretion. Owain remained a faithful servant of the House of Lancaster: eventually, aged around 60, he was executed by the Yorkists after the Battle of Mortimer's Cross 1461. Allegedly his last words were
"This head shall lie on the stock that used to lie in Queen Catherine's lap."