Coughton Court
Gunpowder Plot and Gardens
Chapter 4 : History of the Throckmortons
The Throckmortons, originally from Worcestershire, came to Coughton in 1409, on the marriage of John Throckmorton to the heiress Eleanor Spiney. The Throckmortons gradually increased in wealth and power through the fifteenth century, by service to the Beauchamp Earls of Warwick, and to the Crown. Marriage to heiresses was always welcomed, too!
In the 1480s Robert Throckmorton (c. 1451 – 1519) was knighted after supporting Henry VII at the Battle of Stoke.Appointed to the Privy Council, Sir Robert's marriage to the daughter of a London Alderman, Katherine Marrowe, produced twelve children. Now with a knighthood and plenty of money, all Sir Robert needed was a smart new country house.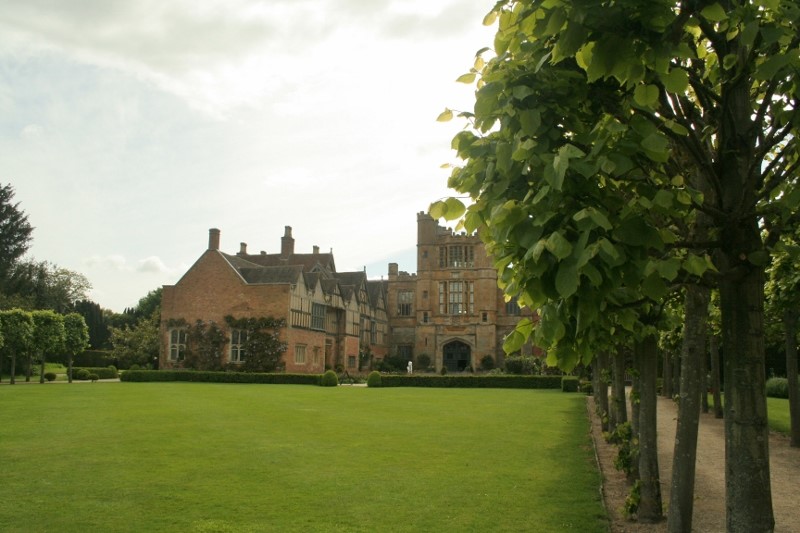 Building began at Coughton in the early 1500s, but Sir Robert did not see it completed, dying on pilgrimage to Rome in 1519. Sir Robert's son, Sir George (c. 1489 – 1552) entered royal service and was also an MP. In 1512, he married Katherine Vaux. Katherine was the half-sister of Sir Thomas Parr, and thus half-aunt to Queen Katherine Parr.
Unlike her niece, however, Sir George and Lady Throckmorton remained resolutely Catholic in the face of Henry VIII's reformation, resisting the annulment of Katharine of Aragon's marriage. Sir George was apparently the author of the remark that Henry should not marry Anne Boleyn because
'it is thought that you (Henry VIII) have meddled with both the mother and the sister.'
To which Henry could only deny any 'meddling' with Anne's mother. Following this rather unwise discussion with Henry, Sir George retired somewhat, but his open sympathy with the Pilgrimage of Grace earned him arrest, although not execution.
Sir George and Katherine Vaux had 19 children. These children divided along confessional lines. The oldest son, Sir Robert (d. c1580), adhered to the faith of his fathers and was probably responsible for the priest hole. Another son, Sir Nicholas (1515 – 1571), who was employed in the household of his cousin, Katherine Parr, embraced Protestantism. He was knighted by Edward VI on bringing the news of the Battle of Pinkie to court. A supporter of Lady Jane Grey, he was also involved in Wyatt's Rebellion of 1554 against Mary I, but was acquitted at his trial (somewhat to the Queen's displeasure.)
Discretion being the better part of valour, Sir Nicholas went into self-imposed exile until the accession of Elizabeth. He became Elizabeth I's ambassador to France, and, whilst there, became personally acquainted with Mary, Queen of Scots. After Mary's return to Scotland, he served as one of Elizabeth's envoys to her.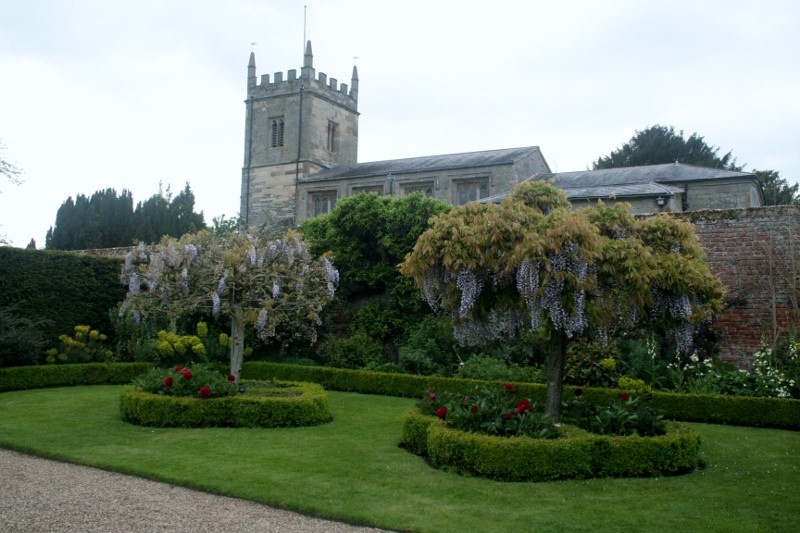 Whilst initially Sir Nicholas appears to have supported the deposition of Queen Mary by the Scottish Lords, he later became embroiled in the Duke of Norfolk's plot to marry her – although many of those involved sincerely believed that Elizabeth would be informed of the plans, and welcome them.Throckmorton spent some time under arrest, but was released, although Elizabeth was no longer inclined to favour him.
Meanwhile, three of the sisters of Sir Robert and Sir Nicholas had married into Catholic families - the Catesbys, Treshams and Ardernes, and their cousin, Sir Francis (1554 – 1584), mounted a full blown plot to overthrow Elizabeth in favour of Mary, Queen of Scots, backed by Spanish troops. Arrested in 1584, he was tortured, confessed, and hanged at Tyburn.
Sir Nicholas' wife was Anne Carew, and, amongst their 13 children was Elizabeth (or Bess), who became a maid-of-honour to Elizabeth, but also lost favour, and was thrown into the Tower for marrying Sir Walter Raleigh without royal consent. Anne Carew's second husband was Adrian Stokes, who had previously been married to Lady Frances Brandon, Duchess of Suffolk and niece of Henry VIII (read about Lady Frances and Mr Stokes here).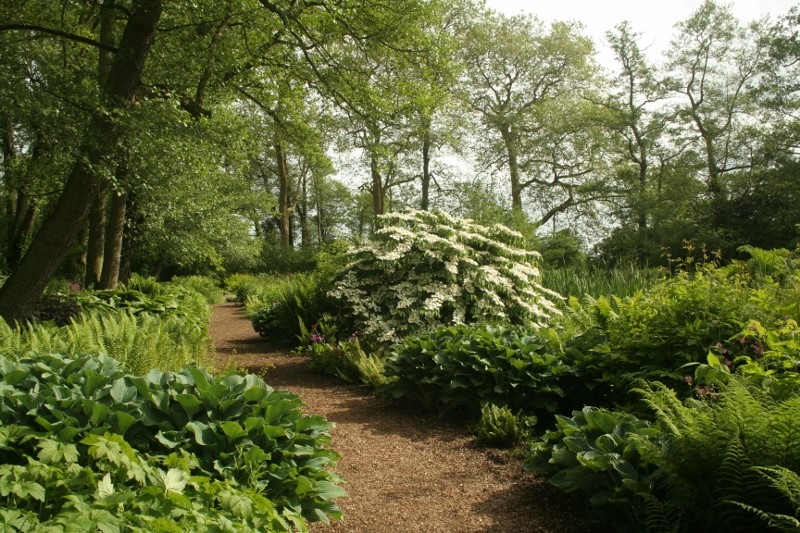 Bess's cousin, Sir Thomas (1533 – 1614), inherited from Sir Robert. Like his father and grandfather, he rejected the Reformation and suffered from years of fines and imprisonment for recusancy (refusal to attend the Anglican service, as prescribed by law). He and his sisters were among the many Midlands' gentry who hid the Catholic missionaries who were attempting to strengthen the weakening ties of the ancient religion.
Coughton became one of the chain of places across the country between which the priests would move. Their second cousin, Anne Vaux, was a key player in this traffic (read more about Anne in Jessie Childs' article "The Woman who kept Catholicism Alive" here)
Whilst no Throckmortons were directly linked to the Gunpowder Plot of 1605, Sir Thomas' nephew, Robert Catesby, and Tresham, Wintour and Digby relatives were the prime movers behind it. Coughton had been rented to Sir Everard Digby, and the plotters, on discovery, tried to flee there but were captured.