Hever Castle
Anne Boleyn's Childhood Home
Chapter 2 : History of the Castle
There was a motte and bailey construction at Hever in the mid-thirteenth century, which was extended following the grant of a licence to the de Hever family in 1271 to rebuild in stone, and to crenellate. Just over ninety years later, in 1383, the then owner, Sir John Cobham, received a further licence to extend the castle, as well as his other property at Cooling. The current gatehouse, the moat and the curtain wall all date from this period. Sir Thomas Cobham sold the castle in 1462 to Sir Geoffrey Boleyn, along with other land in the county.
Hever became the chief residence of Sir Geoffrey's son, Sir William Boleyn, whose wife, Lady Margaret Butler, was later to inherit a claim to the earldom of Ormond. On the death of Sir William in 1505, his son and heir, Sir Thomas, brought his wife, Lady Elizabeth Howard, daughter of the Earl of Surrey, and his growing family from their other property at Blickling, in Norfolk, to settle at Hever. Thomas and Elizabeth had several children, of whom three lived to adulthood, Mary, Anne and George. His mother remained in residence and outlived all the family except Mary.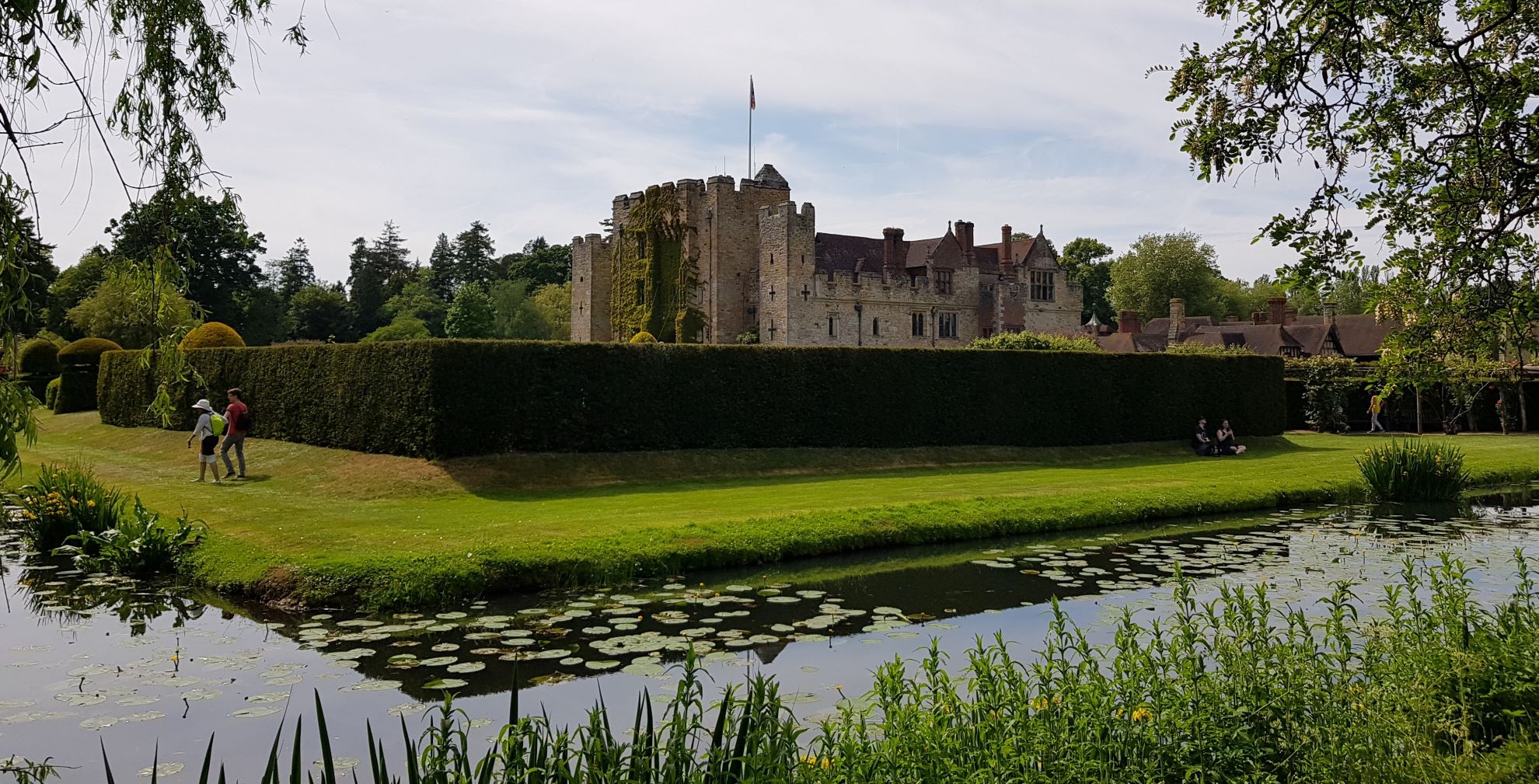 Sir Thomas was an important member of the courts of both Henry VII and Henry VIII. He attended the wedding of Prince Arthur to Katharine of Aragon in 1501 and was part of the escort of Henry VII's daughter, Margaret, for her journey to Scotland to marry James IV. In his younger days, Sir Thomas was a jouster, and took part in many of the important pageants of Henry VIII's reign, including that held in February 1511 to mark the birth of Henry, Duke of Cornwall, the short-lived son of Henry and Katharine of Aragon. Sir Thomas, along with other knights, held the canopy over the baby princess, Mary, for her christening in 1516.
His expertise in diplomacy, and his skill in French ensured that the king frequently employed him as a diplomat, particularly at the court of Marguerite of Austria, regent of the Netherlands for her nephew, the Emperor Charles V. Boleyn also took part in the 1513 invasion of France, in the king's own division.
In the first decade of the sixteenth century, Sir Thomas undertook extensive refurbishment of Hever, to make it a suitable backdrop for a man rising in national importance. He created the current entrance hall and the staircase gallery above it as well as the long-gallery, and inserted mullioned windows.

The tragic deaths of Anne and George Boleyn are well-known. The third sibling, Mary, although she had the least successful life in a worldly sense, had the happiest personal life. She had two children by her first marriage (there has been speculation that one or other or both, were fathered by Henry VIII, whose mistress she was, but there is no compelling evidence). When she was widowed her father showed little inclination to help her and was only brought to offer her refuge at Hever following a direct order from the king. Mary had the last laugh by marrying a second time for love.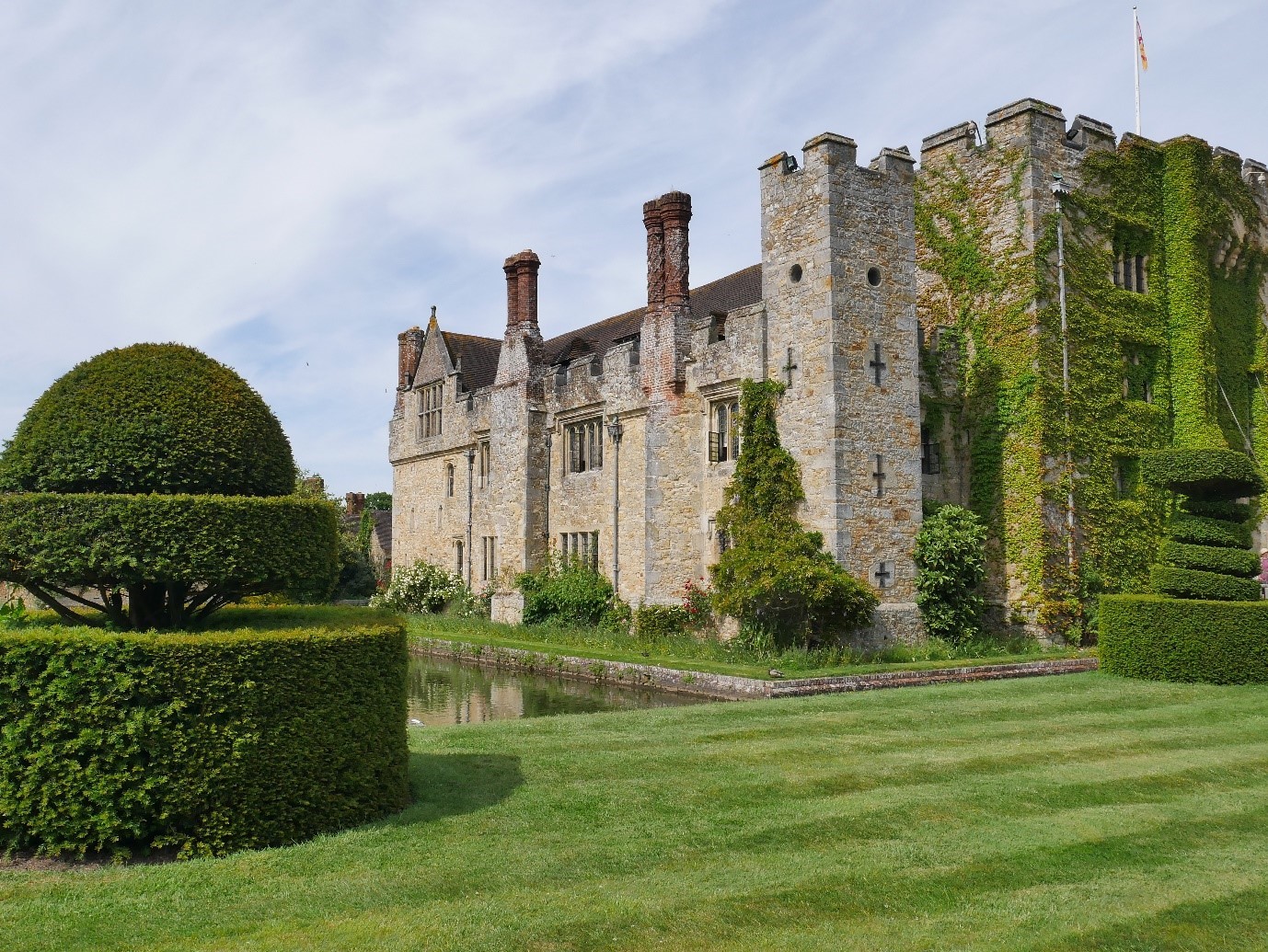 It was at Hever that Sir Thomas died on 12th March 1539. He was then buried in the parish church under a monumental brass now displayed in the castle. Mary Boleyn was heir to half his estate. The remainder, including Hever Castle, fell to the Crown, as Anne Boleyn's rights as co-heir had been barred by act of parliament.
This windfall proved useful for the king in his dealings with another queen – his fourth wife, Anne of Cleves, whose marriage lasted a mere six months. As part of the annulment settlement Anne of Cleves was granted leases of several properties, including Hever, where she resided from time to time until her death in 1557.
An early history of Kent records that Henry VIII visited her there, when he was staying with his friend, Charles, Duke of Suffolk, sometime in the early 1540s. Anne wrote from Hever on 4th August 1554, to the queen, Mary I, saying how 'desirous' she was of seeing her step-daughter, and her new husband, Philip.
After Anne of Cleves' death, the property reverted to the Crown, but was soon sold to one of Queen Mary's most loyal supporters and councillors, Sir Edward Waldegrave, and his wife, Frances Nevill. Under Elizabeth, he was dispatched to the Tower for continuing to hear Catholic Mass. He died in prison.
The next three generations of Waldegraves remained Catholic, and Henry, Lord Waldegrave married Henrietta, the illegitimate daughter of King James II and Arabella Churchill. When James II was deposed by his other son-in-law and daughter, William III and Mary II, Henry Waldegrave remained faithful and joined him in exile at St Germain-en-Laye. His son, later Earl Waldegrave, despite being the nephew of James Edward Stuart, the Old Pretender, converted to the Anglican faith, and accepted the Hanoverian succession. The earl sold Hever to Sir William Humphreys, a Lord Mayor of London, and an early director of the Bank of England. In the 1740s, the property was again sold, this time to Timothy Waldo. It passed to his relative, Edmund Meade, who chose to lease it out, rather than live in it.
By the late nineteenth century, the property was in some disrepair. A Captain and Mrs Sebright took a long lease, and began its restoration, but it was the American millionaire, William Waldorf Astor, who spent a small (or even a large!) fortune on restoring it, using the best craftspeople and materials available. Whilst the gardens are very different from their sixteenth century layout, the interior layout is not vastly different from the time of the Boleyns, although the panelling and decoration would be unrecognizable to them. Nevertheless, the result is so pleasing that it is easy to imagine that one is seeing an original Tudor home.