Anne of Denmark: Life Story
Chapter 4 : Proxy Wedding
Dingwell returned to Scotland in late July with a request for new instructions. Queen Sophie and the Danish Council had been rather surprised at the size of the dower requested, suggesting that kings ought to marry for 'love and alliance' rather than hard cash, and offered only 70,000 Danish thaler (or perhaps 100,000 thaler – accounts vary). This was considerably less, probably closer to £120,000 Scots, although currency conversions are almost impossible to do accurately.
It was reported that Anne was so far in love with her intended spouse that it would be 'death' to her if the match were to be broken off. Certainly it would have been deeply humiliating for her. Fortunately, James had now decided that he too was extremely eager for it and that he was determined it should take place. He sent Dingwell back with instructions to close the deal on whatever terms were offered as he would not 'be thought a merchant for his wife.'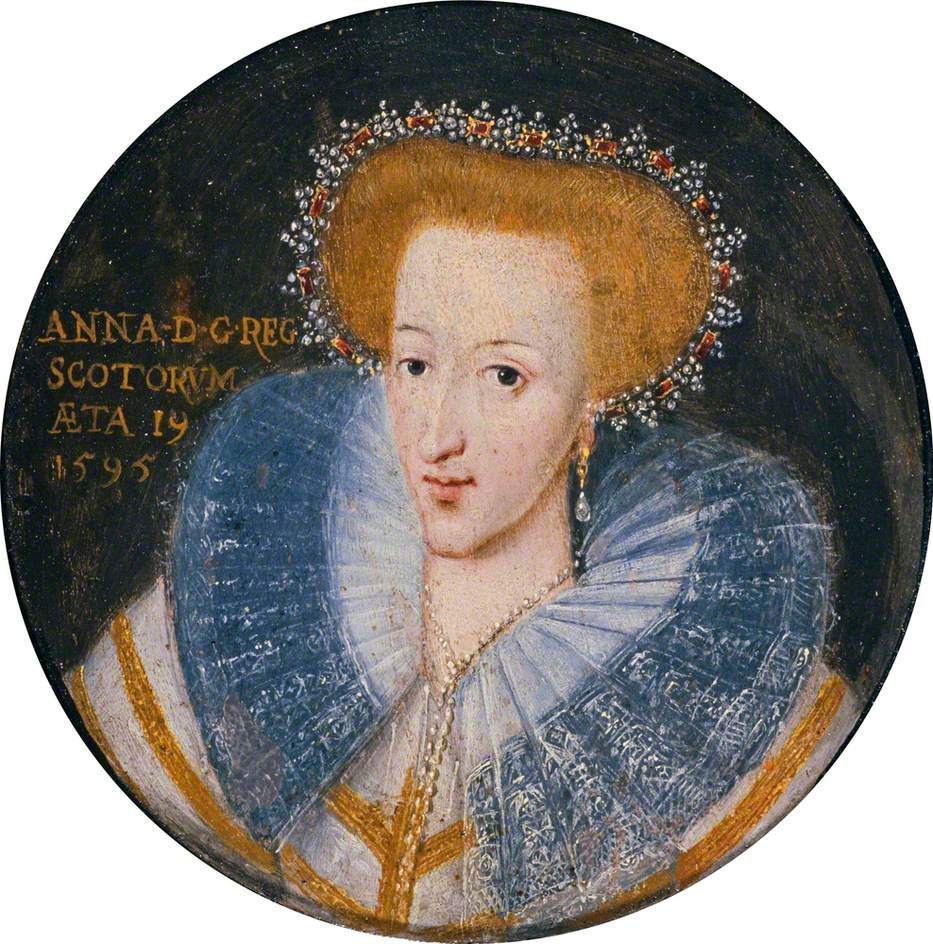 He sent further missives to Elizabeth, requesting financial support. She gave fine words, but there was not a great deal of money forthcoming - £2,000 and £1,000 worth of plate. It was always a balance – England wanted to keep James well-disposed, lest he return Scotland to the auld alliance with France, or, worse, become intimate with Spain, but James should not be allowed to depend on any regular contribution.
Matters were finally concluded, and Anne was married in a proxy ceremony on 20th August 1589. Earl Marishall stood in for James, and 'consummated' the marriage by lying fully clothed on a bed next to his new Queen.
Anne said farewell to her family and set sail from Copenhagen on or before 5th September 1589, with her fleet under the mastership of the Danish Admiral, Peter Monck. James, hearing she had left, hurried back to Edinburgh to chivvy on work at Holyrood. It was still not fit to receive her, so he borrowed Dalkeith Castle for her reception. Half a dozen Scottish ships under the command of the Earl of Bothwell were sent to receive the expected convoy containing Anne and her retinue, and Lord Hamilton and the great ladies of Scotland were waiting to welcome her at Leith. These included the Countess of Mar, Lady Maitland (the Chancellor's wife), Lady Seton and Lady Boyne.
It had been conjectured that her family would not let Anne sail so late in the year, but would wait for the spring and whoever had advised caution about Anne's journey in autumn was soon proved right. Severe storms blew up and by 2nd October her fleet had been scattered. Some half dozen of her ships arrived in Scotland but the rest were unaccounted for, although it was hoped that they would have found shelter in Norway.
James sent Colonel Stewart out on a search mission as rumours of ill-omens began to spread. It was said that on embarkation, one of the cannon on the Admiral's ship had exploded and killed two or three sailors. The boat carrying Lady Kennedy, whom James had appointed to wait on Anne, had sunk crossing the Firth of Forth, with the loss of all forty people on board, as well as the plate and furnishings intended for Anne.
Finally, news was received on 10th October that the remainder of Anne's fleet, having set out twice, had both times been beaten back to shore in Norway. She was safe in Oslo, but somewhat traumatised, and several of her ships were badly damaged. There was no possibility of a good, constant wind to carry her to Scotland in her own vessels before the spring, although she might make the trip in lighter ships under the Scottish admiral, Bothwell. The Scots favoured this solution, but the Danes in her retinue insisted she wait.
In the end, Anne was desired to make the final decision, and, very bravely, considering her horrible experience, said she would continue her journey. James however, decided that he should travel himself to Norway to fetch her, rather than leave her in the hands of the Earl of Bothwell. Despite strenuous objections on the part of his Council, he left on 21st October, arriving at Oslo on 29th of the month following a journey in which he was fortunately free of sea-sickness.
Anne was waiting for her bridegroom in the Old Bishop's Palace. Whilst we cannot know how she was feeling, she was probably full of trepidation. James strode in, dressed in red velvet, a fairly tall man with 'thin cheeks'. He was so eager to meet her that he had not changed out of his riding boots. Apparently he walked straight up to her and attempted to kiss her.
Anne was shocked – manners at the Danish court were formal and this seemed to be taking a liberty. James immediately explained that it was quite acceptable in Scotland, and that he was not insulting her, but merely greeting her. She allowed herself to be kissed and the two began to talk, seeming to get on very well.
They spent the whole of the next day together, and it was soon decided that, rather than risk a further winter voyage, the couple would marry immediately, and return to Scotland in the Spring.
Accordingly, the ceremony was performed on 23 November and the young couple spent the next five months travelling in Norway and Denmark, including attending the wedding of Anne's sister, Elizabeth, to the Duke of Brunswick-Luneburg.

Anne of Denmark
Family Tree